Make your own pastrami - it's so easy!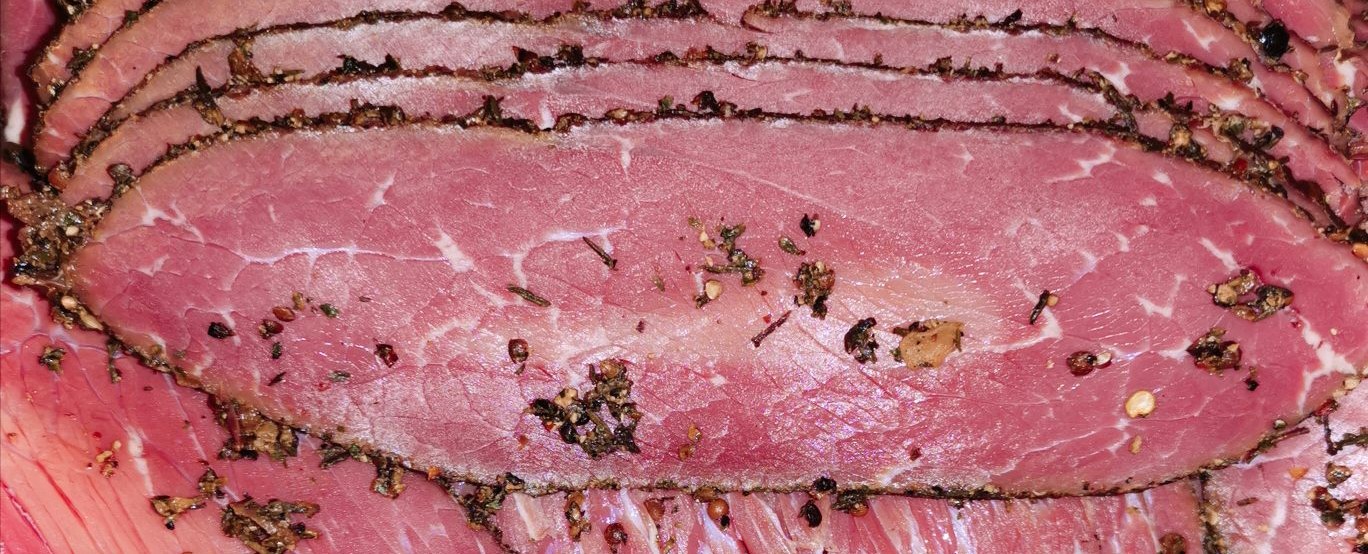 Anyone who has ever been to New York will have come across their delicious pastrami sandwiches, thickly filled with spicy, sliced beef, pickles and mustard. It's no surprise that these heartily filled sandwiches are also growing in popularity at street food markets in Germany too.
But what a lot of people don't know is that it's very easy to make your own pastrami. Admittedly, you need a little patience for the preparation, as the meat has to rest in the vacuum bag for several days. However, making pastrami yourself is not complicated, and the equipment needed is also manageable. Apart from a vacuum sealer , you also need a way to smoke the meat. If you don't have a smoker you can also use a kettle barbecue.
In this post, we explain thesecret behind pastrami and how you can make this New York speciality yourself at home.
Where does pastrami come from?
Although pastrami is now mainly associated with New York, it most likely has its origins in Romania. The name can also be derived from Romanian and means something similar to "preserve". Thus, the meat should be preserved as long as possible through the way it is prepared. During the 19th century, pastrami was brought to the USA by Jewish immigrants.
What kind of meat is suitable for making pastrami?
Pastrami refers to beef that has been tenderised and preserved for a very long time by following several production steps. In the USA, a piece of well-marbled beef brisket is classically used for this. Since beef brisket is often very lean in Germany, silverside can be chosen as an alternative.
Pastrami - ingredients and preparation
Silverside beef, alternatively beef brisket (at least 2 kg)


Spices per kilo of meat:
For the curing mixture



• 10 g freshly ground black Kampot pepper
• 7 g mixed peppercorns
• 30 g curing salt
• 1.5 tsp garlic granules
• 1.5 tsp coriander seeds, ground
• 1/4 tsp ginger powder

For the rub


• 1 tsp black freshly ground Kampot pepper
• 1.5 tsp freshly ground mixed peppercorns
• 1 pinch chili flakes
• 1 tsp coarsely ground coriander
• 1 pinch ginger powder
• 1 pinch garlic powder
• 1 tsp dried thyme
• 1/2 tsp Aglio Olio spice mix
1. Preparation

First clean the meat and remove excess fat.
Then prepare the curing mix and
generously rub it all over the meat.
Vacuum seal the individual pieces of meat.

2. Curing and soaking

Now it is all about waiting. The vacuum-packed meat now has to rest in the refrigerator for 7 days before it can be cured. Turn the meat daily so that the curing mixture is evenly distributed. After 7 days, wash off the curing mixture thoroughly and soak in cold water for 1 hour.

3. Rub

Now prepare the rub from the ingredients listed. Rub in thoroughly on the pieces of meat and vacuum seal again. Put the meat back in the fridge for 2 days so that the rub can soak in.




4. Smoking

Pastrami can be smoked in several ways. We have opted here for hot smoking. This can be done either in a smoker or in a regular kettle grill. The grill or smoker is preheated to 100 °C (indirect heat) and the meat is smoked to a core temperature of 68 °C. Once the core temperature has been reached, remove the pastrami from the grill/smoker and allow to cool.

5. Rest

Now the pastrami is vacuumed one last time and left to rest in the fridge for about 5 days.





Tip:

Vacuum seal the home-made pastrami in portions on salmon boards so it keeps its shape and can be stored in the fridge or freezer until ready to eat.

Now the time has finally come to slice the pastrami! In order for the pastrami to develop its full flavour, it is essential to slice it thinly and take it out of the fridge for a while before serving.

Have fun making it!
Our product recommendations