+ €70 accessories for free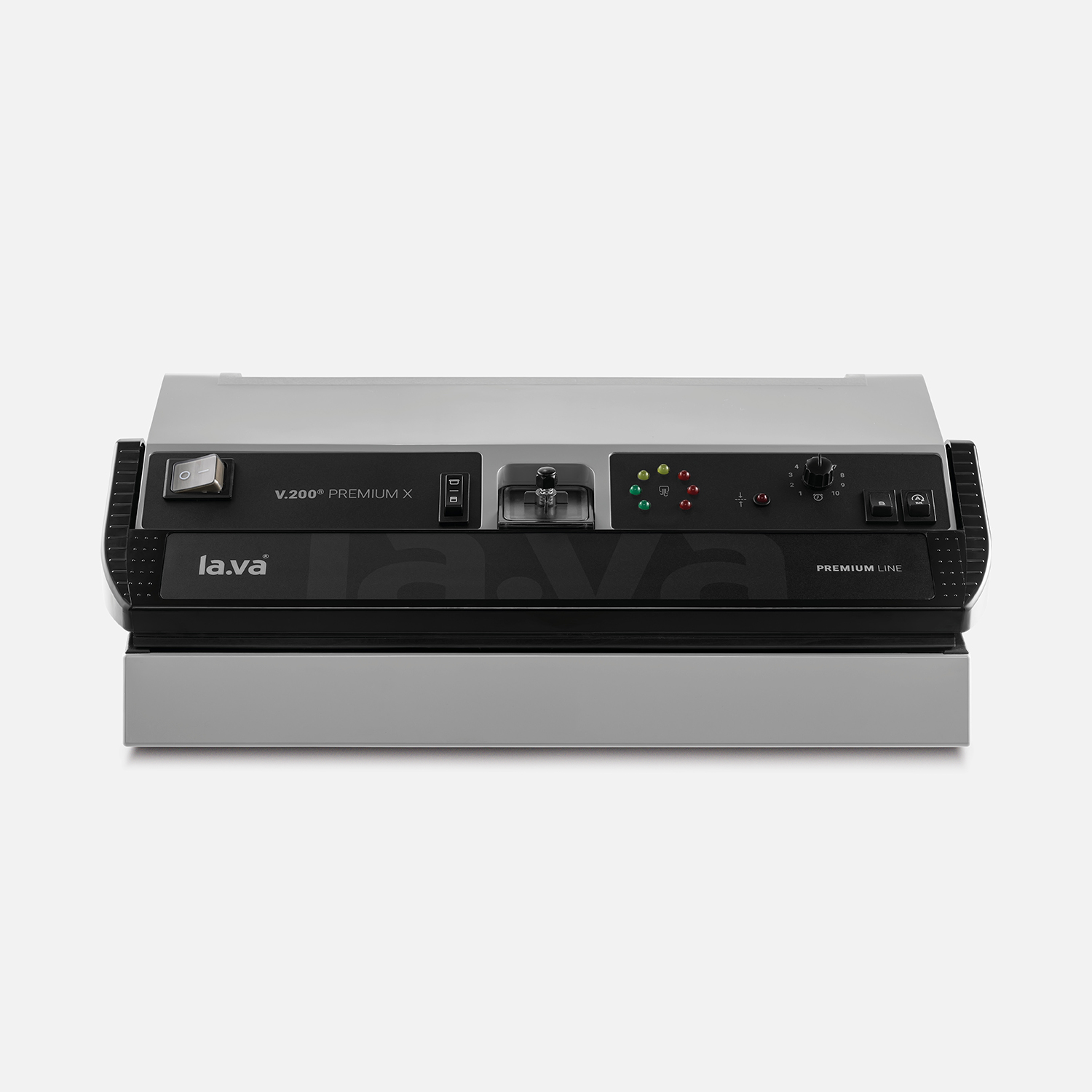 + €70 accessories for free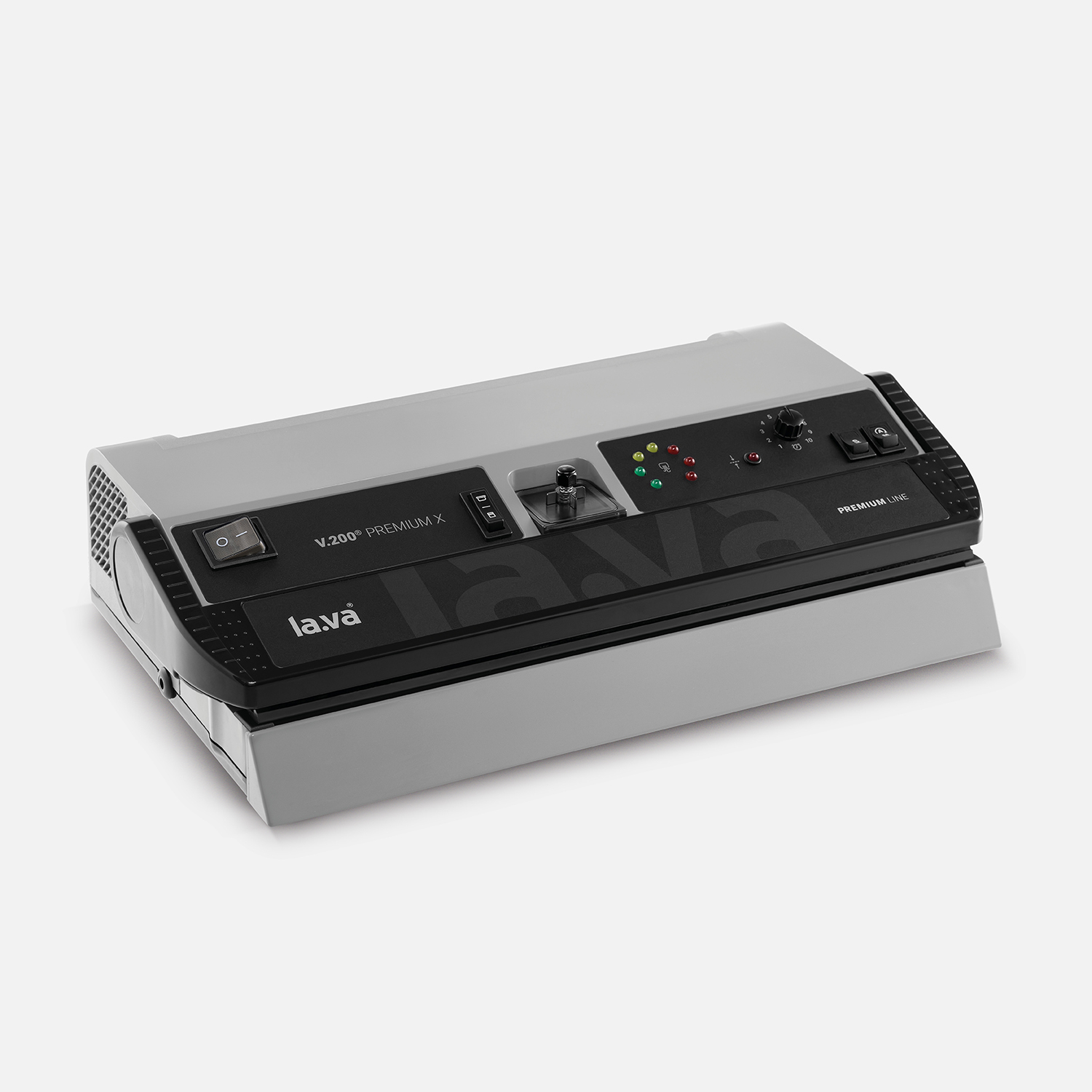 + €70 accessories for free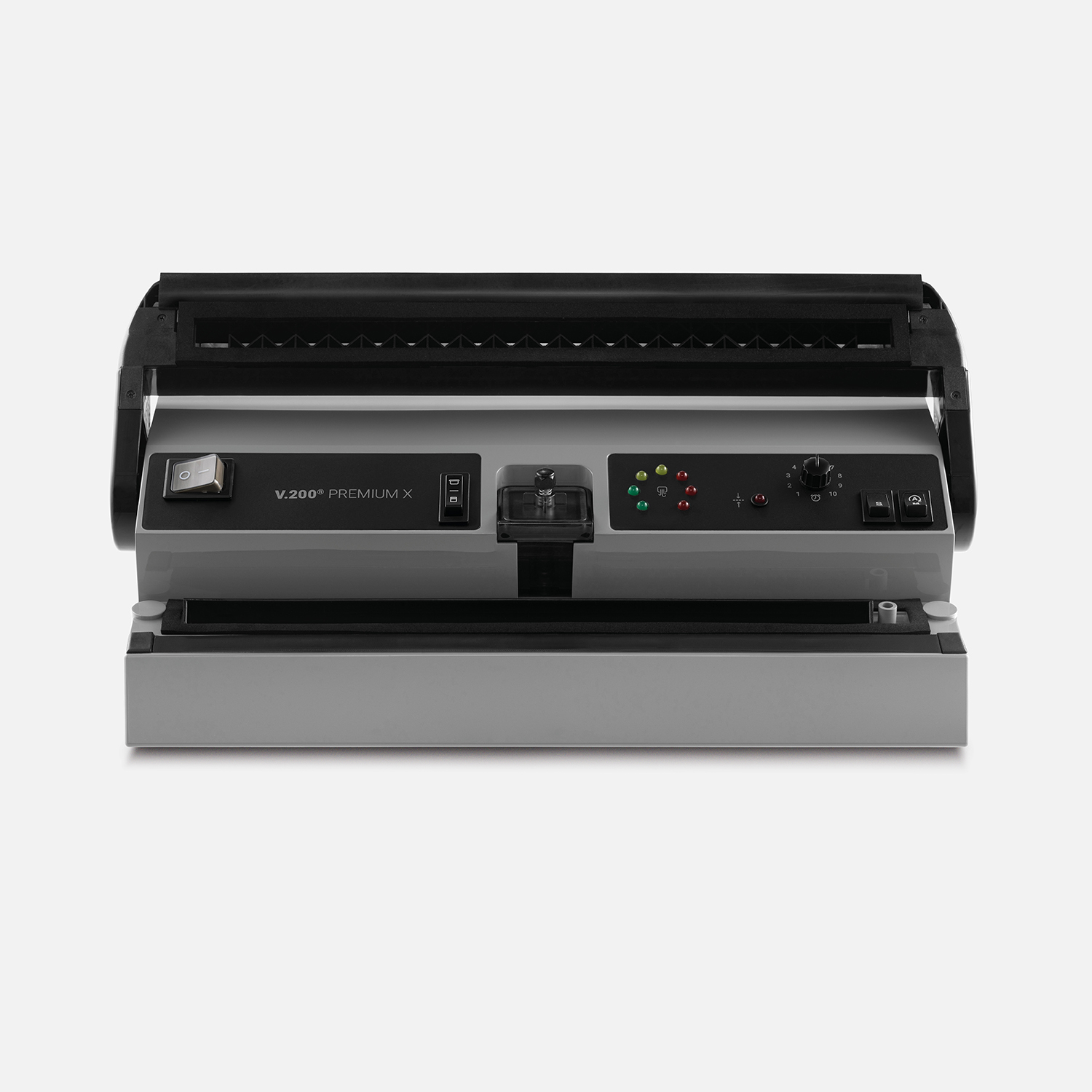 + €70 accessories for free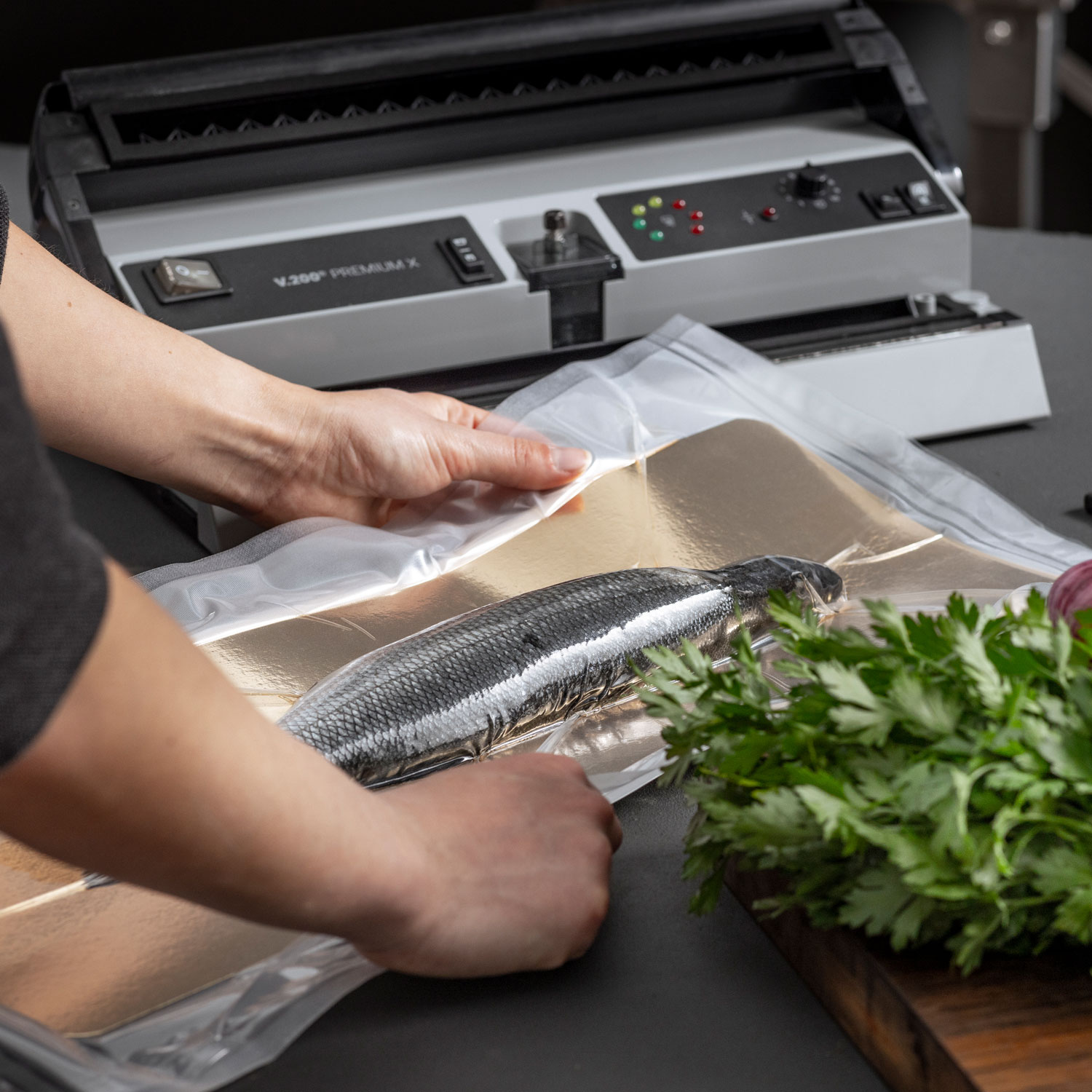 + €70 accessories for free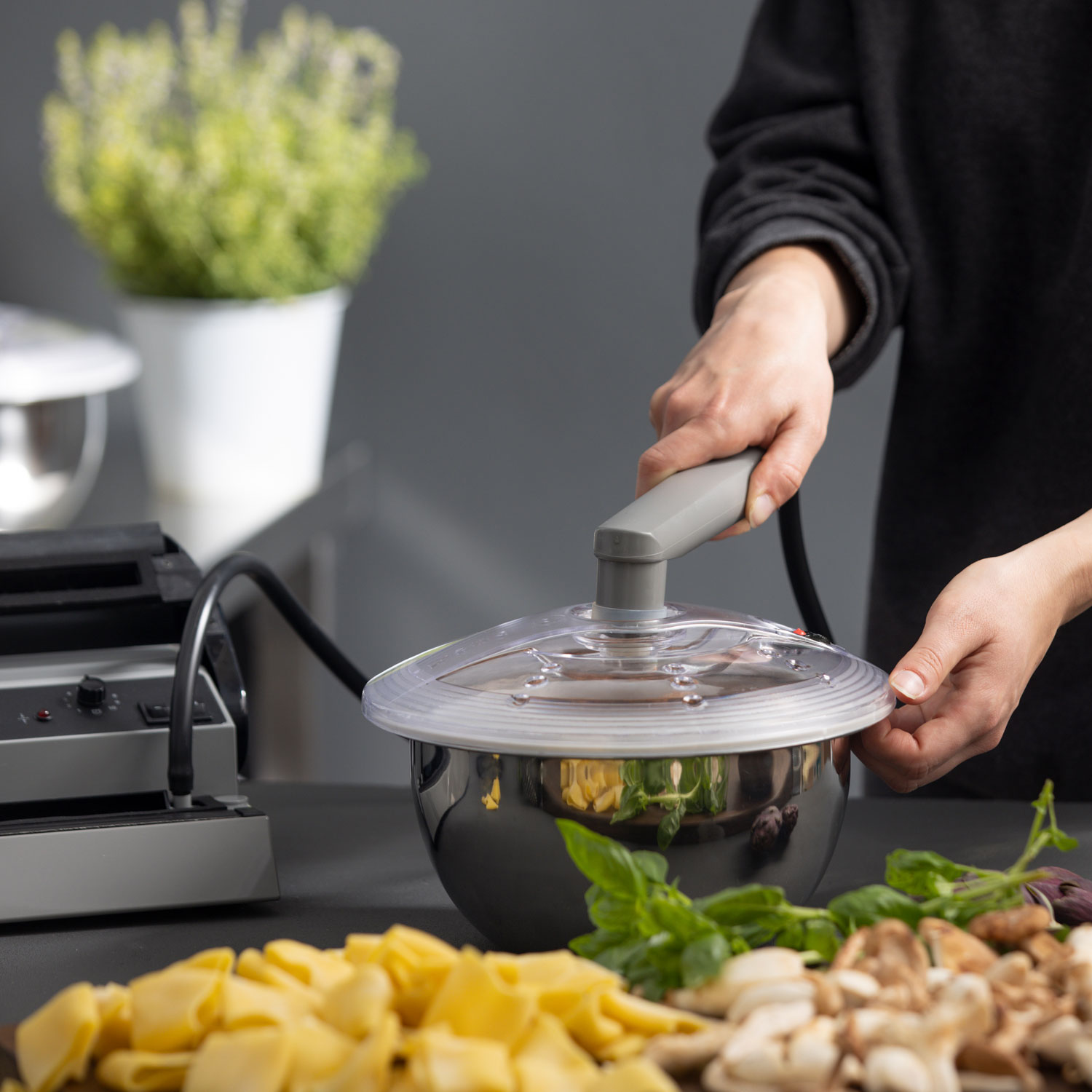 + €70 accessories for free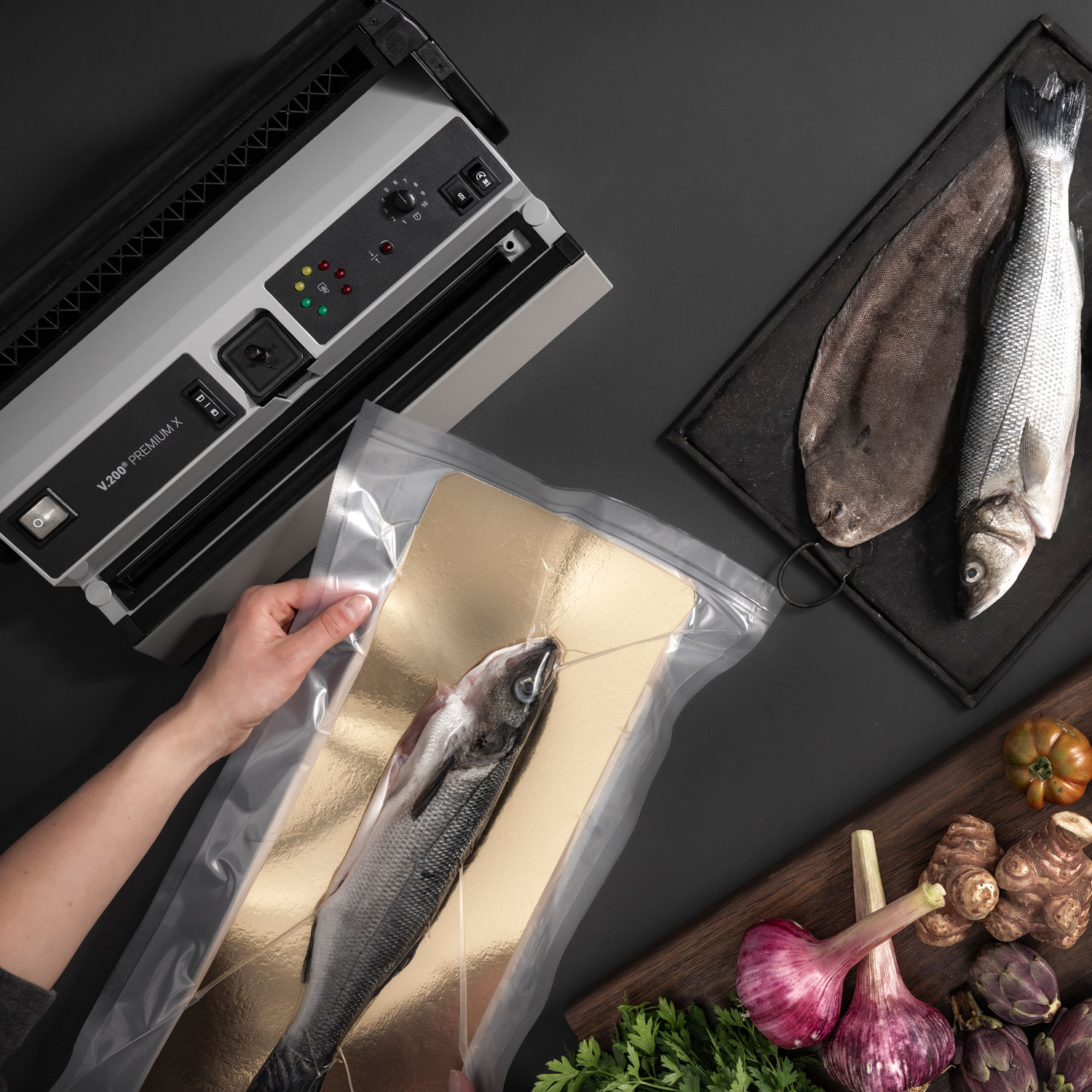 + €70 accessories for free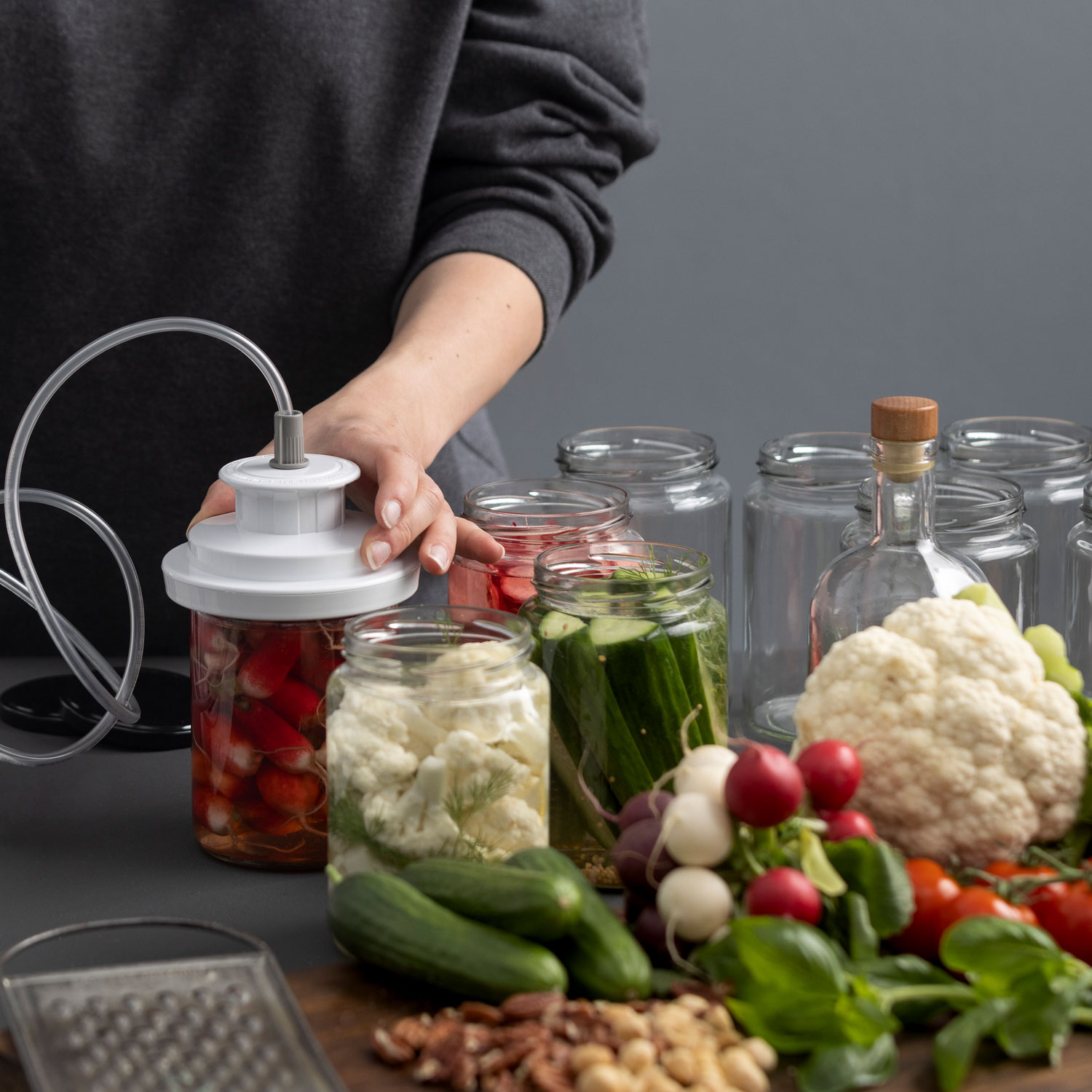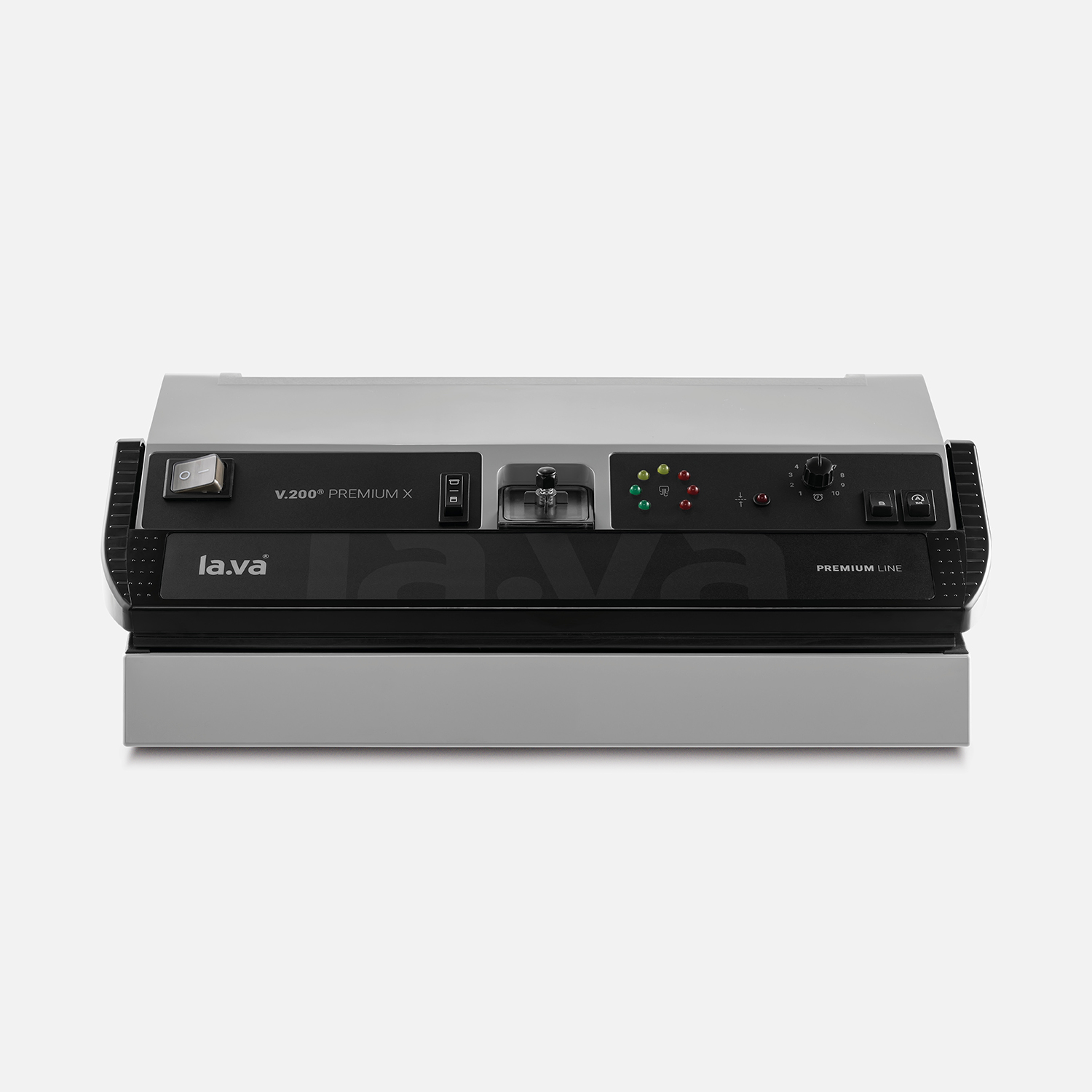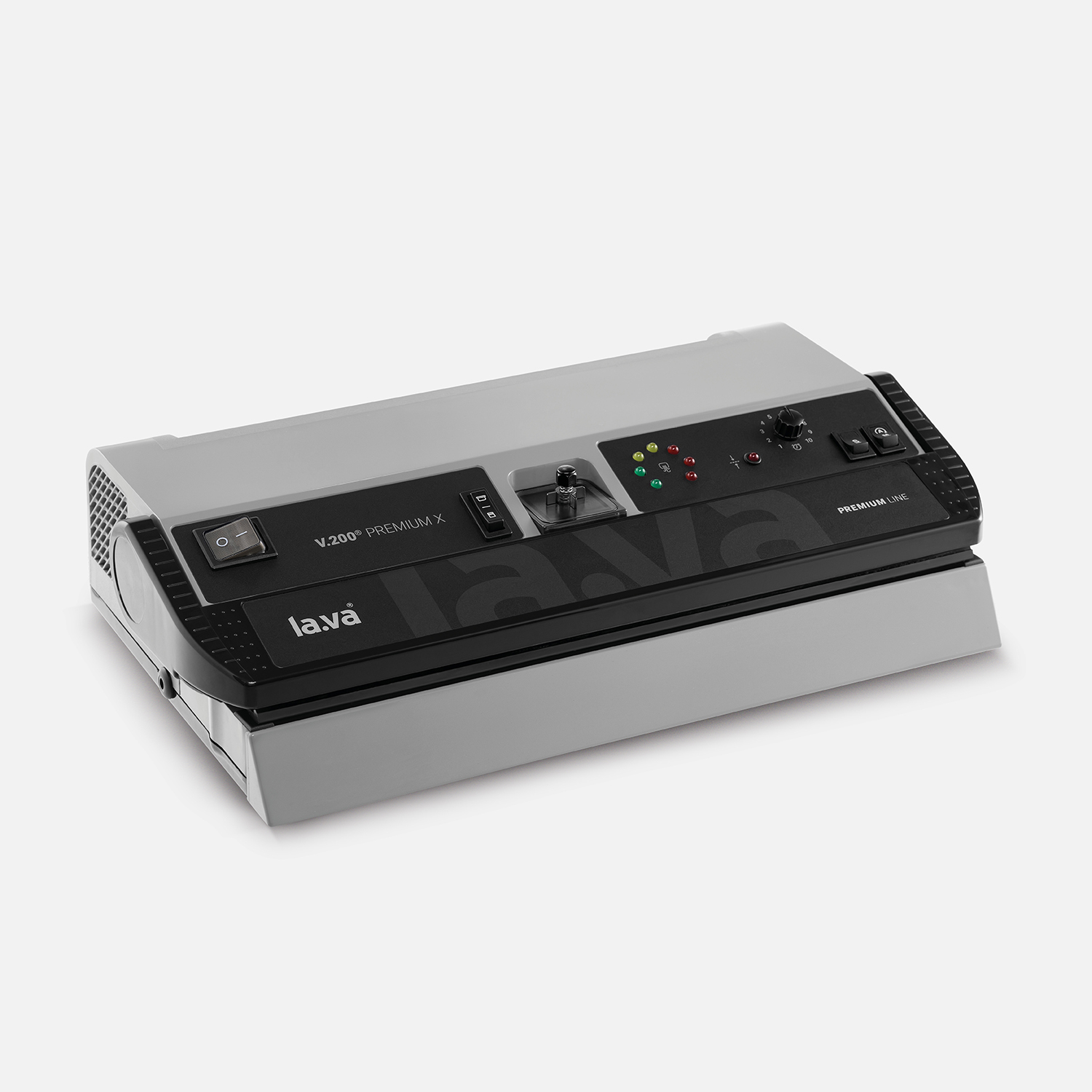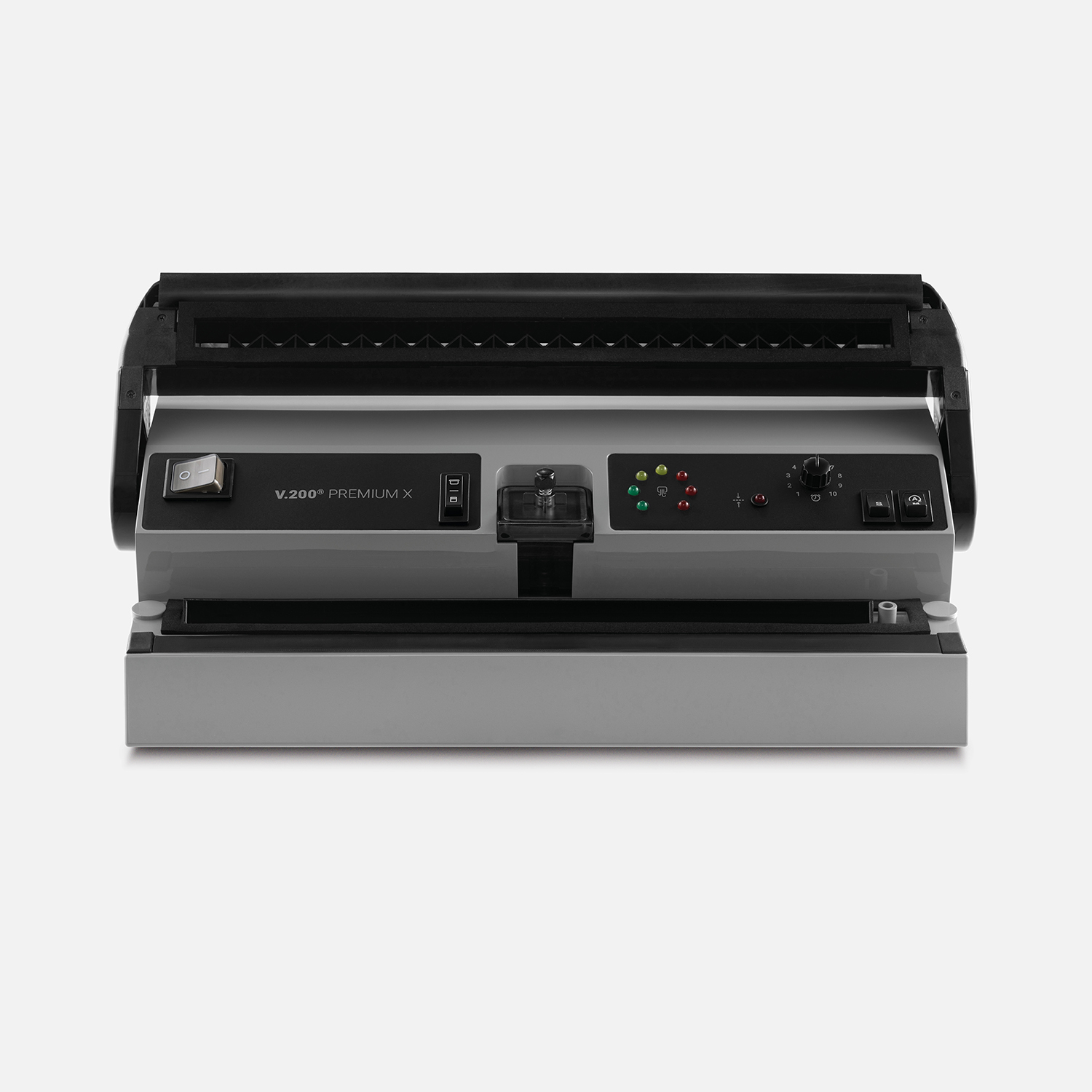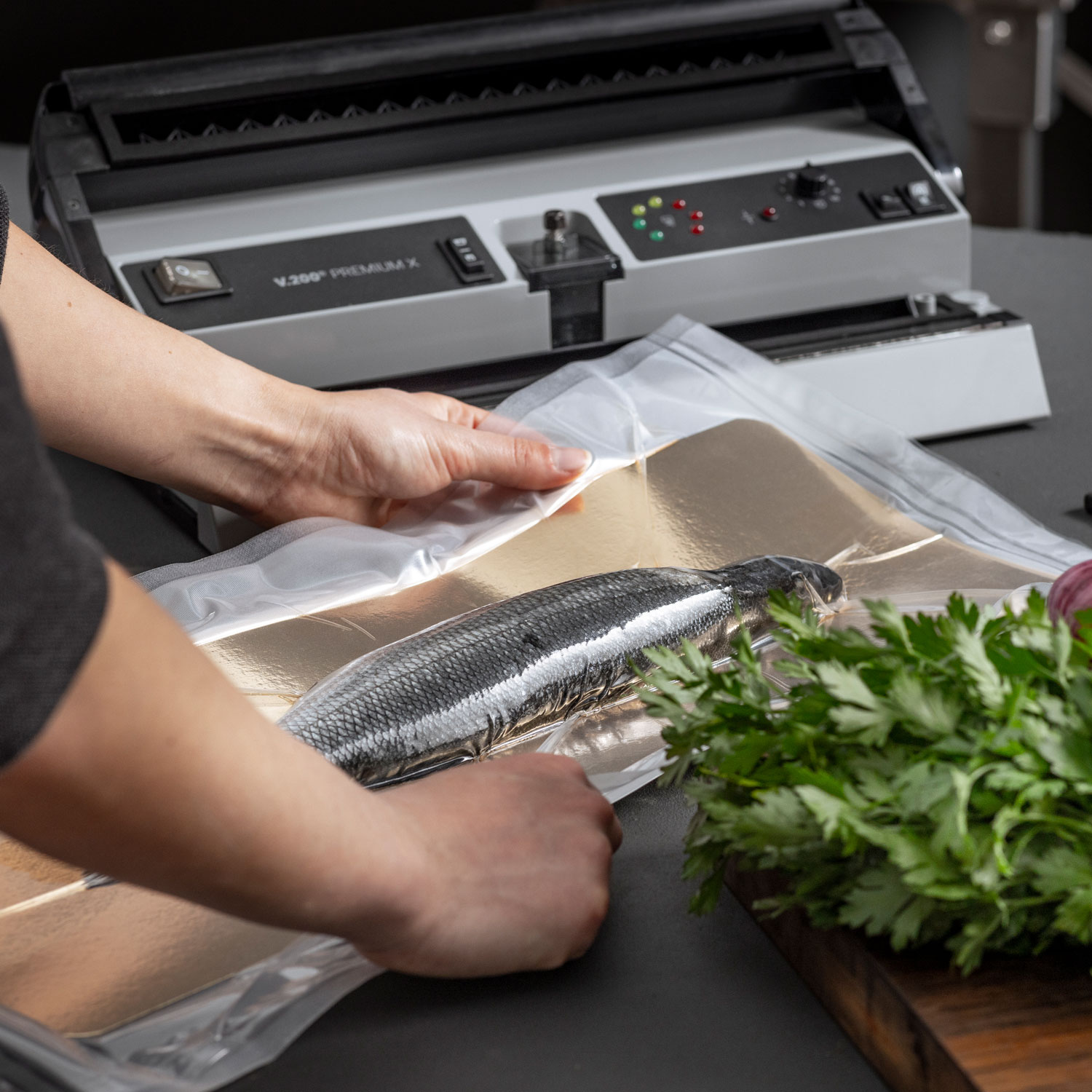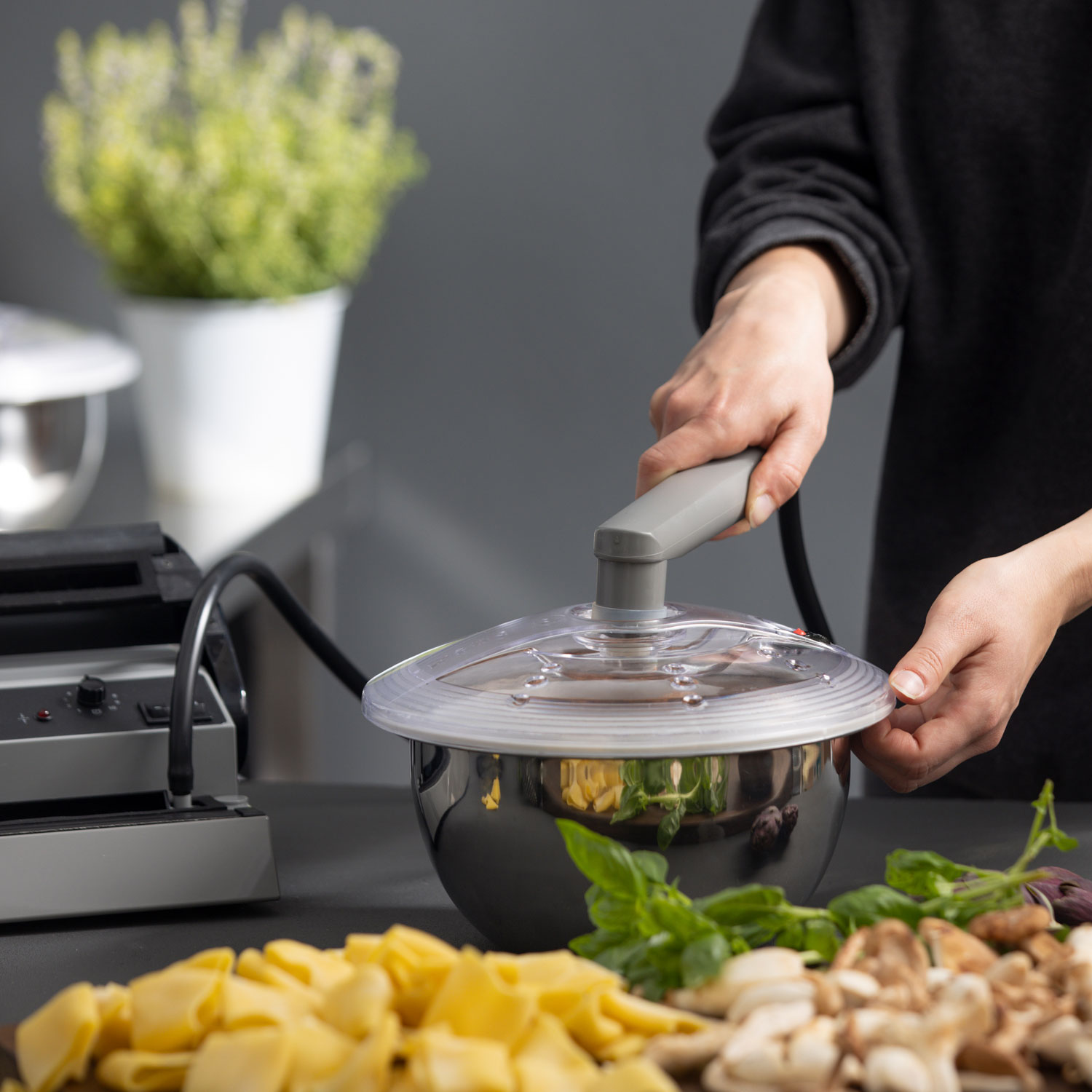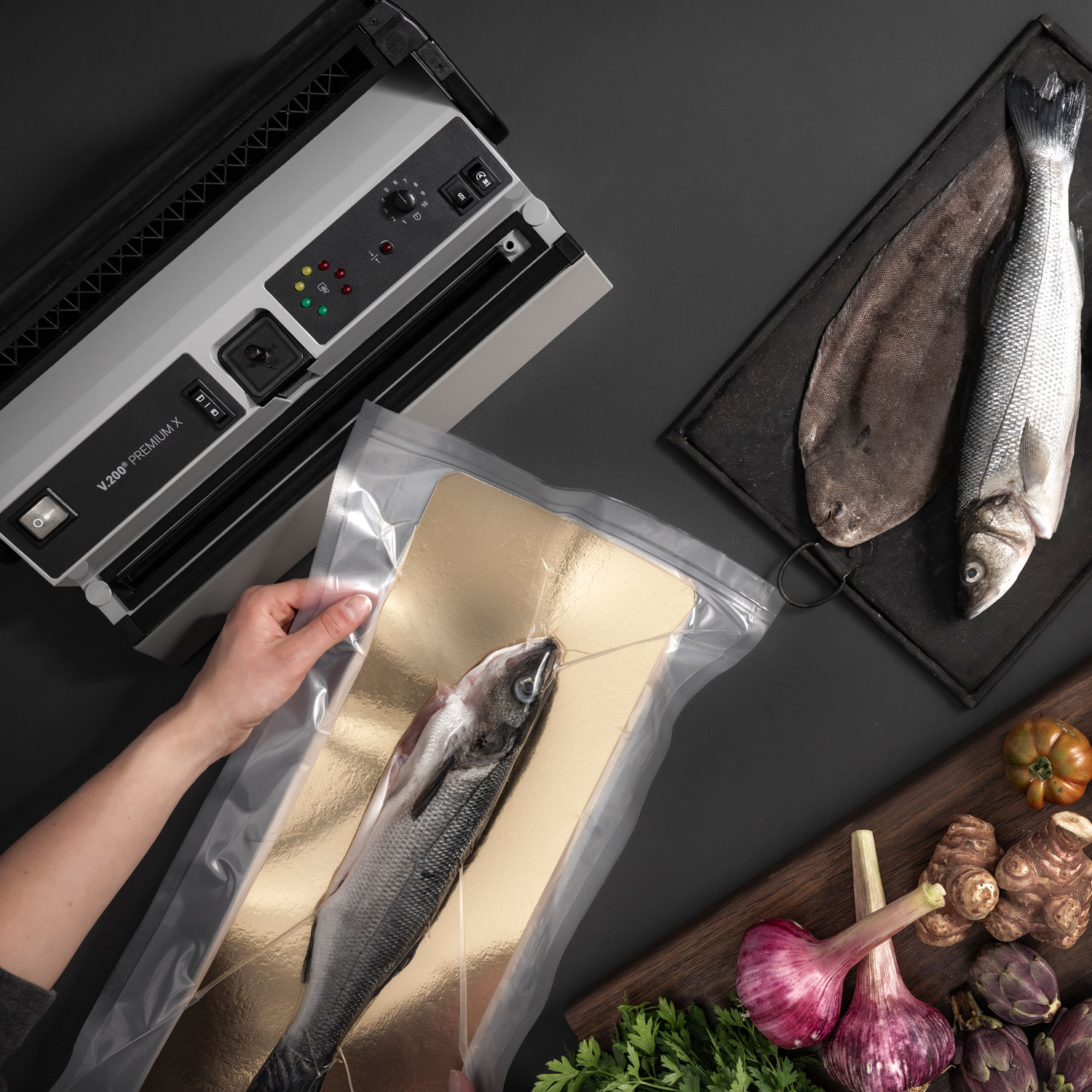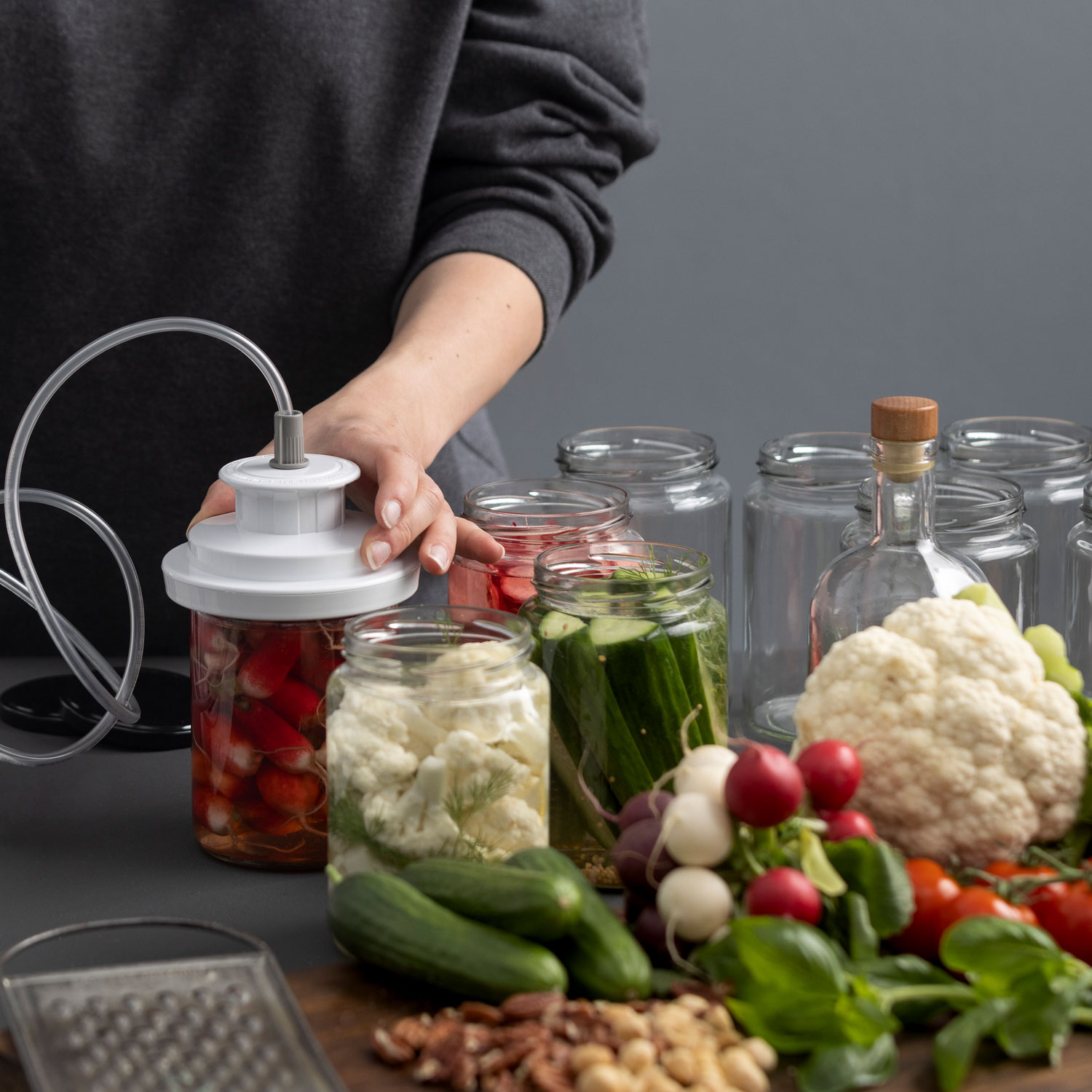 Vacuum sealer V.200® Premium X
Fully automatic professional vacuum sealer with double weld seam and LED pressure display. Intuitive operation – great performance.
Details
Shipping with DHL already on 04.12.2023
with today's order. Delivery: 1-3 days
Free starter set worth €70

50 x R-Vac vacuum bags 16 x 25 cm
50 x R-Vac vacuum bags 20 x 30 cm
50 x R-Vac vacuum bags 25 x 40 cm
2 x E-Vac vacuum rolls 30 cm x 6 m
100 x Labels for vacuum bags
1 x Permanent marker

30 days of withdrawal
Lifetime pump warranty¹
A purchase for life
Vacuum sealer V.200® Premium X
Fully automatic professional vacuum sealer with double weld seam and LED pressure display. Intuitive operation – great performance.
A purchase to last a lifetime. The powerful professional vacuum sealer V.200® Premium X with a weld strip length of 34 cm is characterised by its double weld seam and intuitive operation. Simply choose between fully automatic and manual operation at the push of a button. The device achieves a maximum vacuum level of up to -0.94 bar. You can easily monitor the current vacuum level on the LED pressure display. In addition to vacuum bags and endless rolls, the device can also be used to vacuum seal containers, cans, pots, bowls, bottles, glass jars and preserving jars.
Vacuum sealer V.200® Premium X
Fully automatic or manual: Choose which mode you want to work in using the toggle switch.
Vacuum seal and weld food, industrial parts and other items professionally.
Stay flexible: You can not only vacuum seal bags, but also Lava vacuum containers (perfect for liquids) or use the Lava universal lid to even vacuum seal pots, bowls or cans. The required suction device is already included: With the help of the Lava vacuum bell (sold separately) you can also vacuum seal preserving jars and twist-off jars in no time at all.
Welding time continuously adjustable: Perfect for sealing films of different thicknesses, whether it's a thin bag of crisps or a sturdy 200 micron industrial-strength bag.
LED pressure display: Always keep an eye on the vacuum level.
Seal and vacuum film bags or film rolls. Can also be used purely as a sealer with just a "welding function".
Protection from liquids, dust & particles: The liquid separator, which can be removed as standard, protects the pump from small amounts of liquid being sucked in. In addition, the V.200® Premium X has a removable tray in the intake area, which protects the device twice over from liquids being sucked in.
Vacuum sealing for moist and sensitive products: You can easily retrofit the V.200 Premium X vacuum sealer with the Lava L+ pressure regulator and therefore pack pressure-sensitive or moist food in vacuum bags.
Vacuum sealing of smooth, standard sealed edge vacuum films possible from a thickness of 120 µ. Note: It is a bit more complex and takes longer than with structured films.
Up to 1000 weld seams in succession: All Lava vacuum sealers are designed for continuous use. The oversized welding transformers optimally protect the device against overheating.
LTP - Lava Turbo Pump with lifetime guarantee*: Even larger pump motor and stainless steel cylinder cover for consistently high performance, even after many years. The benefits: Time savings, faster work and long service life thanks to up to -0.94 bar, ideal for larger vacuum bags or many processes in succession. As standard: 2-ball bearing piston pump (approx. 35 l/min. pump performance).
LCS - Lava Close System: Simplified workflow due to faster vacuum generation. No annoying closing of locking clips or hooks, as with other devices. This eliminates the long pressing of the device flap that is often necessary.
Maintenance-free: With all Lava vacuum sealers, wear parts such as seals or weld strips can be exchanged quickly and easily yourself. It is therefore not necessary to send the vacuum sealer away.
Vacuum sealer V.200® Premium X
The vacuum sealer V.200 Premium X is supplied in a set consisting of:
Vacuum sealer V.200 Premium X
Free starter set worth over 70 Euro
Also includes: Suction device for containers
Starter set with different vacuum bag sizes
Detailed operating instructions with guarantee certificate
Guarantee period: 2 years - extendable to 5 years (can be added in the shopping cart)
Vacuum sealer V.200® Premium X
Article number:

VL0200XP

Colour:

Grey/black

Dimensions:

410 x 230 x 98 mm

Fluid extraction facility:

In series

Housing:

Strong ABS plastic

LCS® (Lava Close System):

Enables fast vacuuming as the device flap does not need to be held continuously

LTP® (Lava Turbo Pumpsystem):

Utilization of high quality piston pumps, which are exceptionally smooth, powerful and equipped with double ball bearings

Number of pumps:

1

Packing and sealing operation:

Up to 1000 in series without overheating

Peak power:

500 watts

Power of pump (approx.):

35 ltr./min

Pressure control L+:

Additional charge: €12.90

Pressure gauge:

LED pressure indicator

Recommended for:

Kitchen Pro

, Hunter

, Fisher

Vacuuming and sealing process:

Automatic & manual

Voltage:

220 - 240 volts

Weight:

4,40 kg

Weld seam:

Double

Sealing band length:

340 mm

Max. vacuum:

-0,94 bar

Lava Functions:

LTP® and LCS®
Vacuum sealer V.200® Premium X
Login as customer
Dear Lava customer, the login to the customer account is the same as before. Have fun!
Login
---
Andrew C., Nov 2, 2023, 2:48:18 PM
Great product and fast shipping. I wanted a high-performance device, and that's exactly what I have now! No comparison to cheap providers. Well done!
Michaela D., Nov 2, 2023, 1:00:37 PM
Der Vakuumierer funktioniert einwandfrei! Weiter so!
Tobias F., Jul 6, 2023, 8:32:07 AM
Ich bin begeistert von diesen makellosen Schweißnähten!!!
Frequently asked questions
Like the V.300 Premium X, the V.200 Premium X is a fully automatic vacuum sealer.
With these devices, both the vacuum process (after closing the device flap) and sealing (after reaching the maximum negative pressure) starts automatically. While on the V.200 Premium you can read the vacuum on an LED display, the V.300 Premium X has a manometer pressure display, which shows the vacuum level even more precisely. The V.300 Premium also has a standard pressure regulator, with the help of which sensitive products can be vacuum sealed particularly gently. The device flap (after welding) is opened at the push of a button on the V.200 Premium X and from V.300 Premium X then fully automatically via a ventilation system.
Tip: You can use our device comparison to compare all of our vacuum sealers.


The pressure regulator is not standard on the V.200 Premium X, but you can easily retrofit it yourself. The pressure regulator L+ can be ordered directly here, so the pressure can be easily regulated.


¹ For longlasting performance, Lava offers a 25-year warranty on the vacuum pump of a vacuum sealer.