Gravlax – How do I prepare this delicacy properly?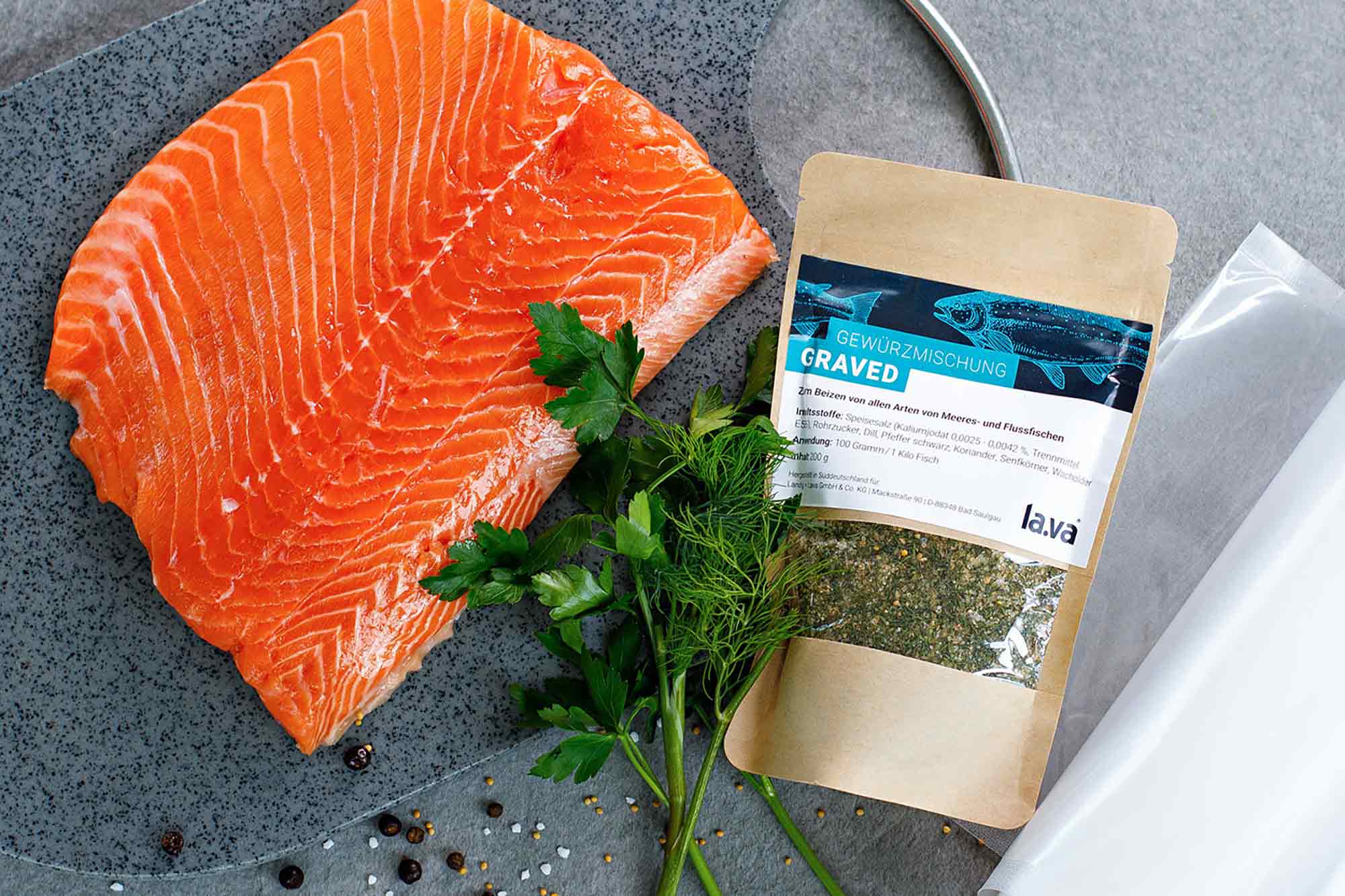 Gravlax (also called pickled salmon) is a fine delicacy.
Served on bread with honey-mustard sauce or in a salad, this delicious fish dish always impresses with its simple sophistication and is therefore very popular, especially on holidays.
But what many people don't know is that gravlax is very easy to make yourself with the help of a vacuum sealer and a few spices. We'll show you how to do it here.
Where does gravlax come from?
Gravlax is a speciality from the Scandinavian regions. Literally, it means buried salmon. The name alludes to the traditional method of preparation, where salted salmon was buried in cool soil or sand for a few days. As a result, the fish lost liquid and lasted longer before spoiling.
Preparing your own gravlax
Fortunately, you no longer have to dig a hole in the garden to make your own gravlax. These days, you can replace the hole in the ground with a vacuum bag. To avoid crushing the raw fish during vacuum sealing or sucking in liquid, it is advisable to work with a gentle vacuum. This keeps the seam clean and securely closed. What's more: You don't have to stick to salmon; trout offers an excellent alternative.
How to prepare gravlax
Ingredients for two people:
1. Preparation

First wash the fresh salmon fillets, pat dry and remove the bones with tweezers. Cleanly trim the edges of the fat and the fins.



2. The magic's in the mix

Apply the Lava gravlax spice mix generously to the salmon fillet – the fillet should be completely covered with it.



3. Time for the bag


Carefully place the seasoned salmon fillet in the vacuum bag. Fold the edges down so that the edge of the vacuum bag does not get soiled when you fill it. A salmon board or a thin chopping board can be used to make it easier to place the fillet in the bag. However, this should be removed before vacuum packing.



4. Start vacuum

Seal the fillets in vacuum bag and marinate in the fridge for 48-72 hours. Preferably with a little pressure so that the marinade is properly absorbed. Tip: Weigh down the salmon with a kitchen board and place a full carton of juice or milk on it. Turn the salmon 1-2 times a day so that the marinade is evenly distributed.



5. Enjoy

After 2-3 days, remove the salmon from the vacuum bag, rinse under running water and pat dry. If you like, you can sprinkle dried dill or other herbs on top. Finely slice the gravlax. The salmon is particularly delicious served with fresh bread, cucumber salad and honey-mustard sauce. The marinated salmon will keep in the fridge for up to 2 weeks, but it can also be vacuum sealed and frozen.

Have fun making it!
Our product recommendations