+ €100 accessories for free*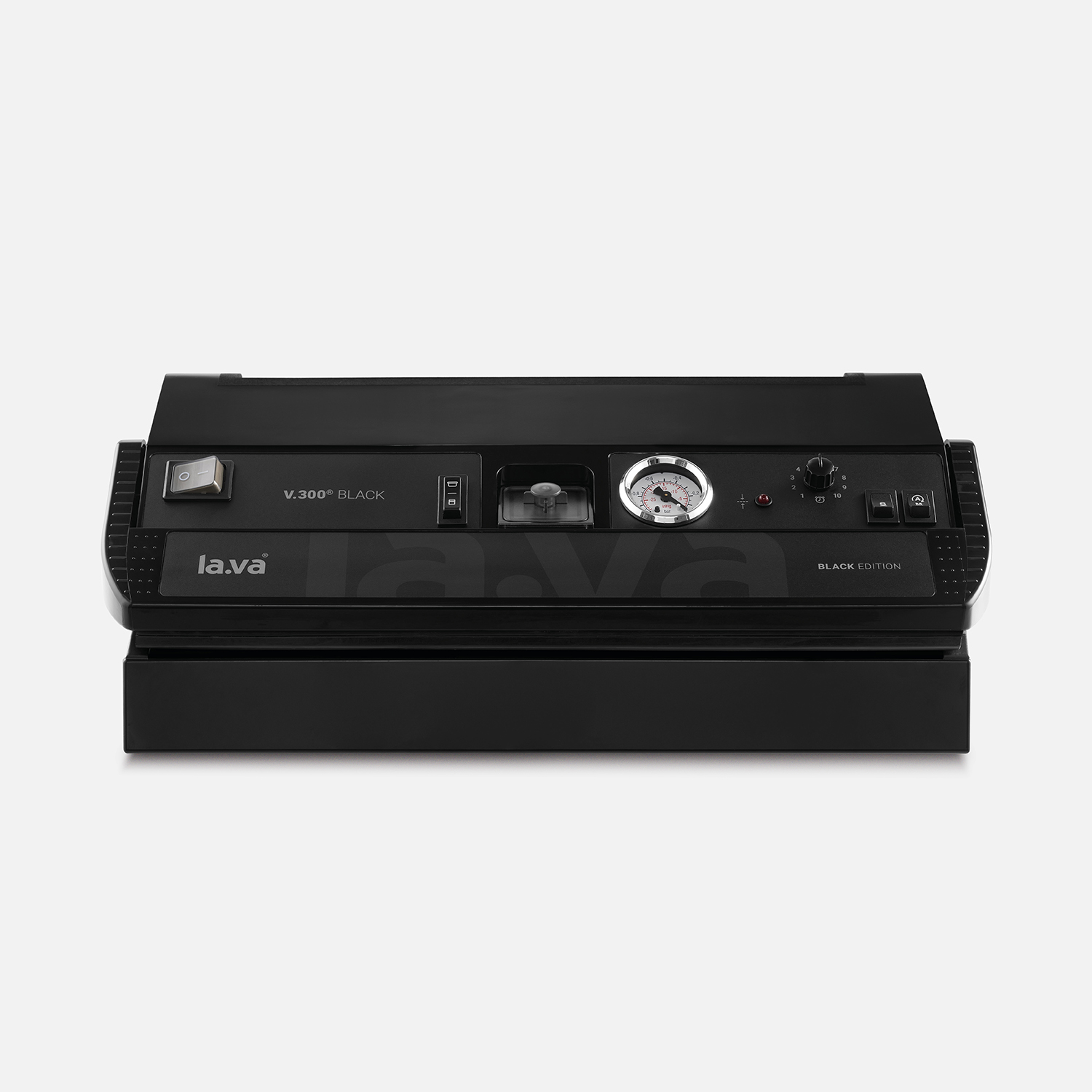 + €100 accessories for free*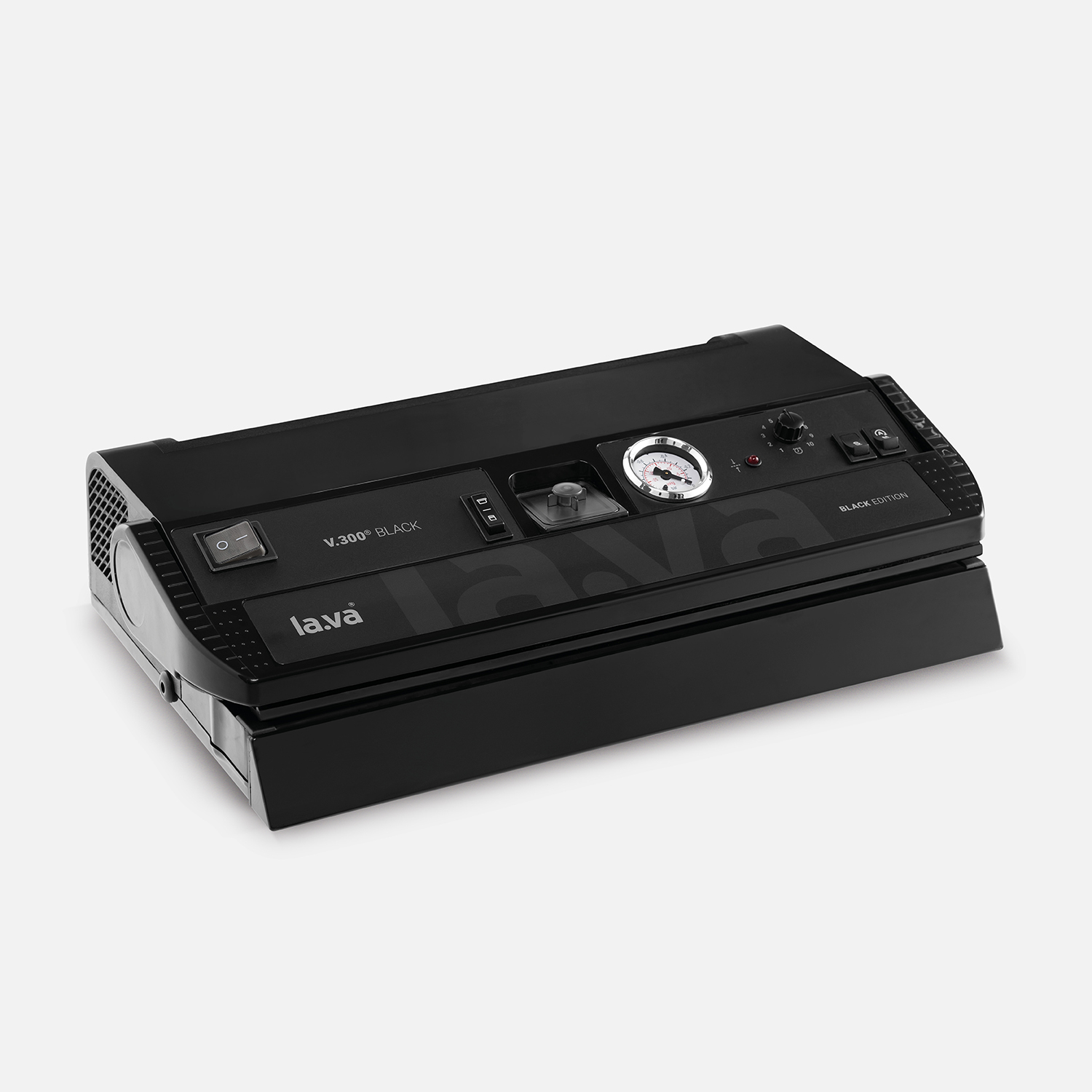 + €100 accessories for free*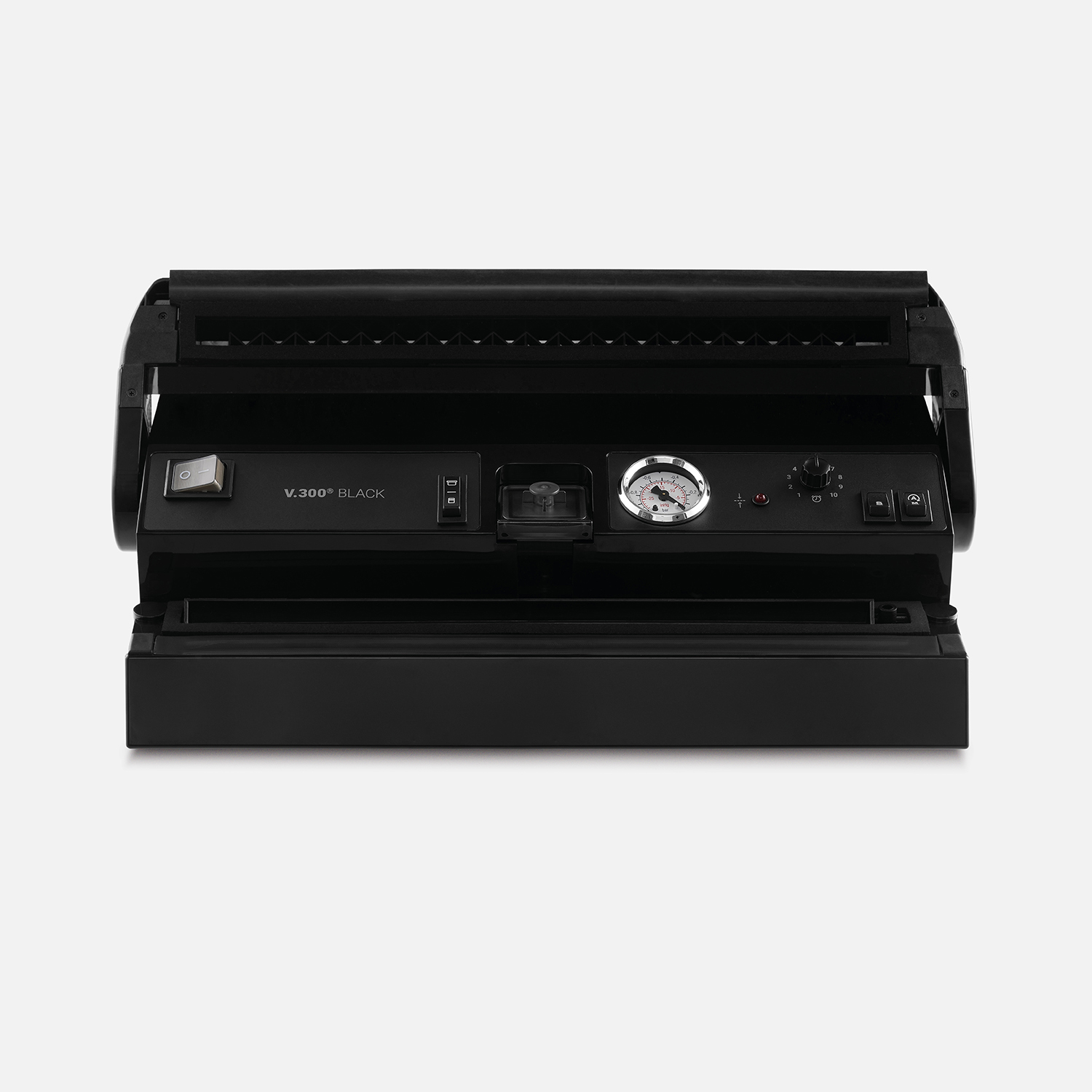 + €100 accessories for free*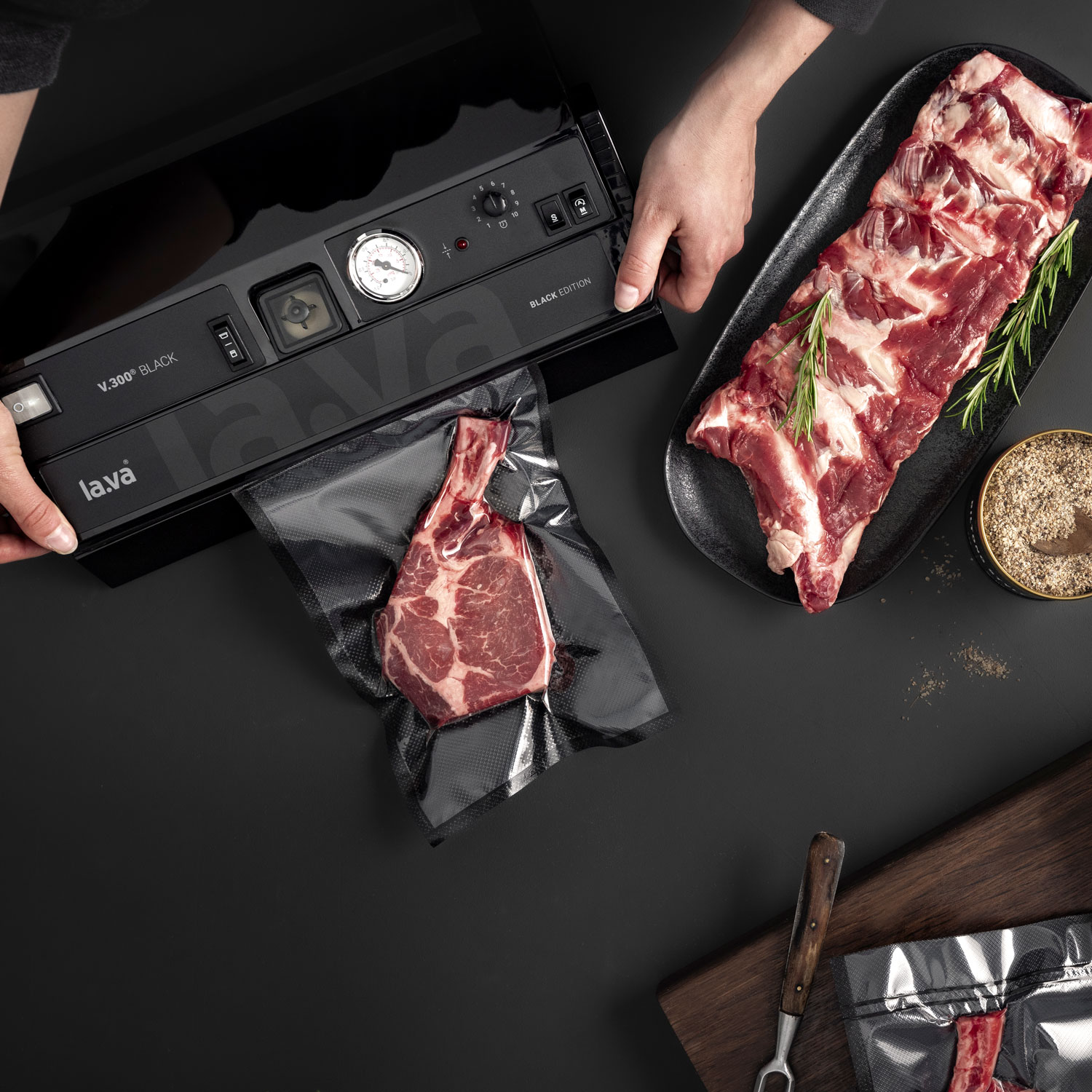 + €100 accessories for free*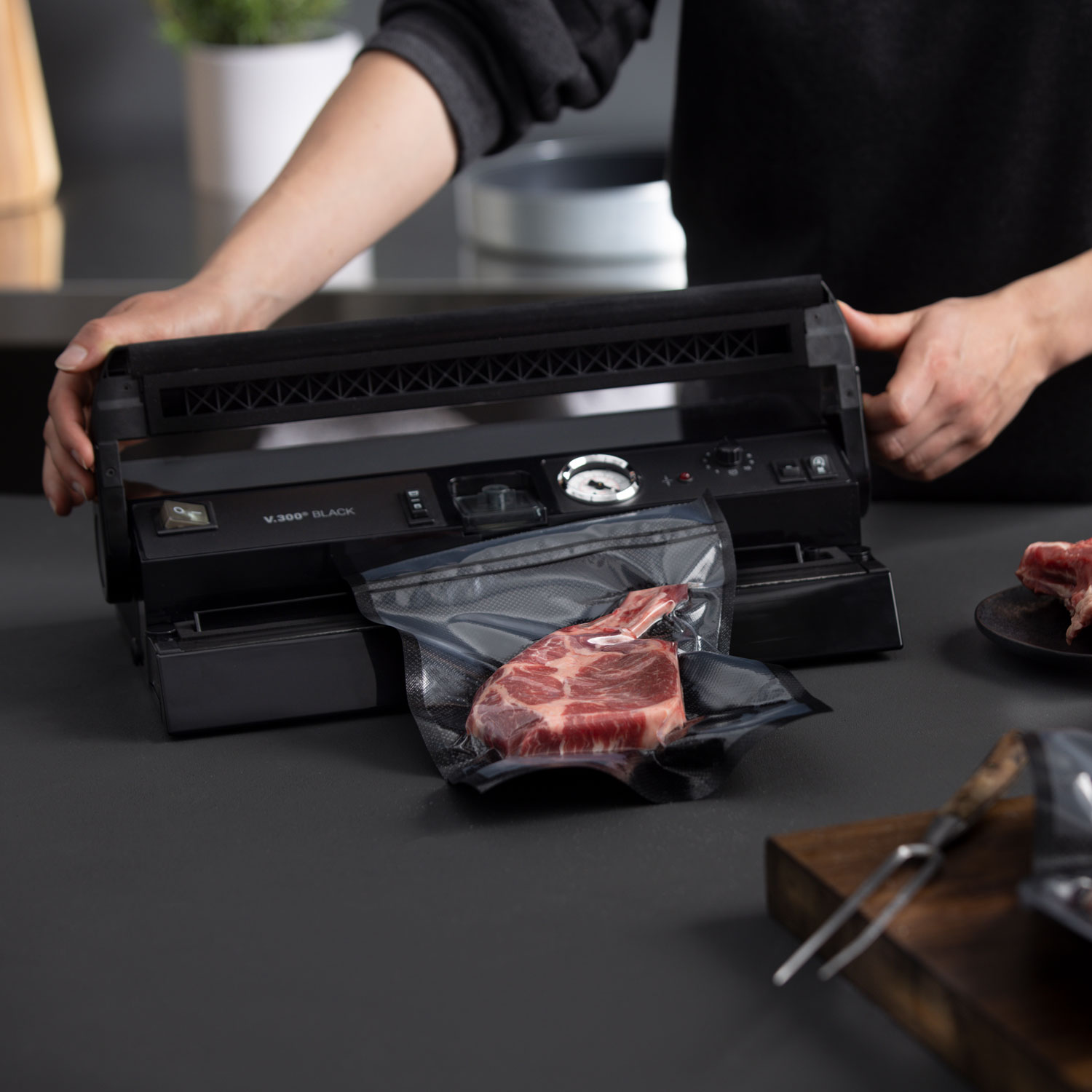 + €100 accessories for free*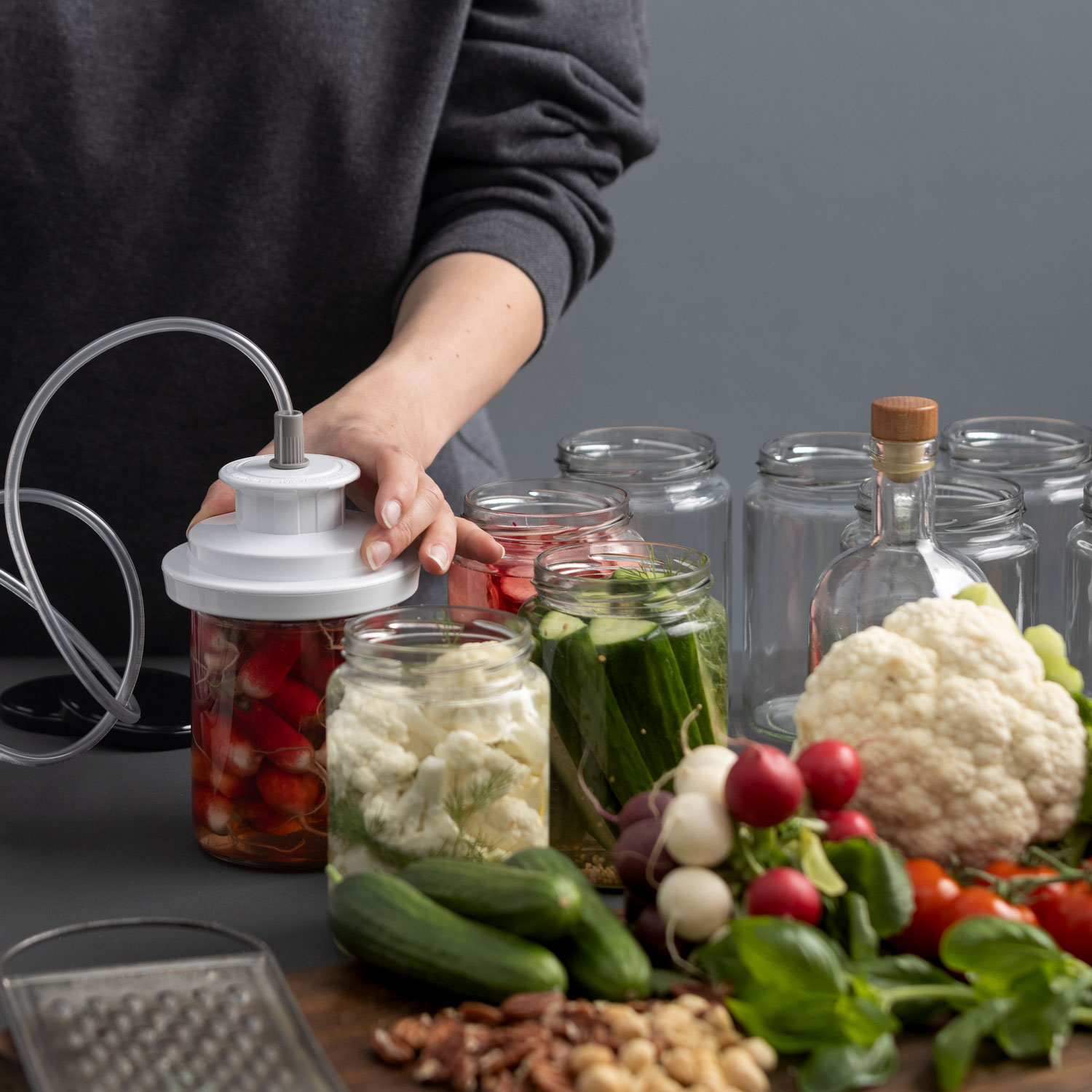 + €100 accessories for free*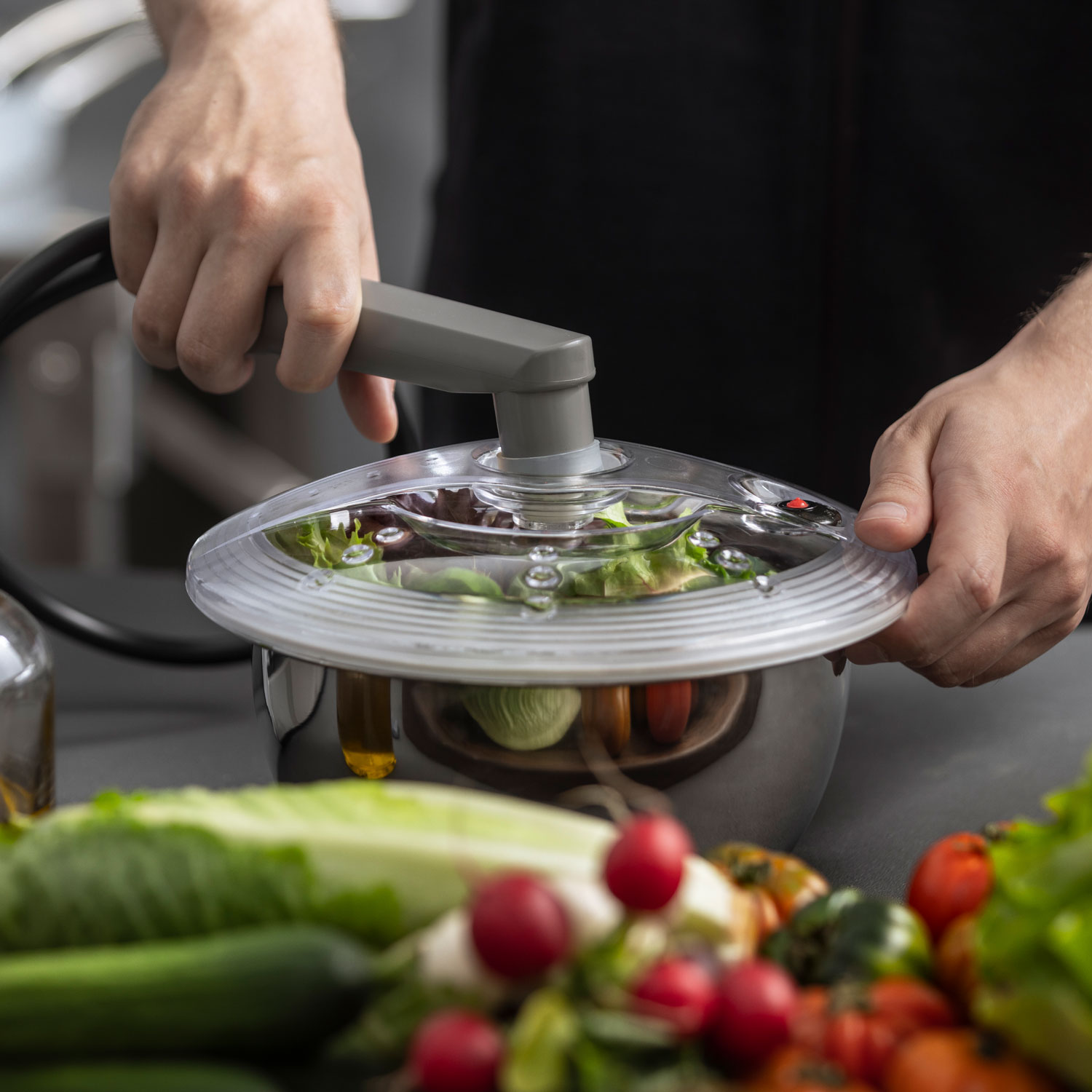 + €100 accessories for free*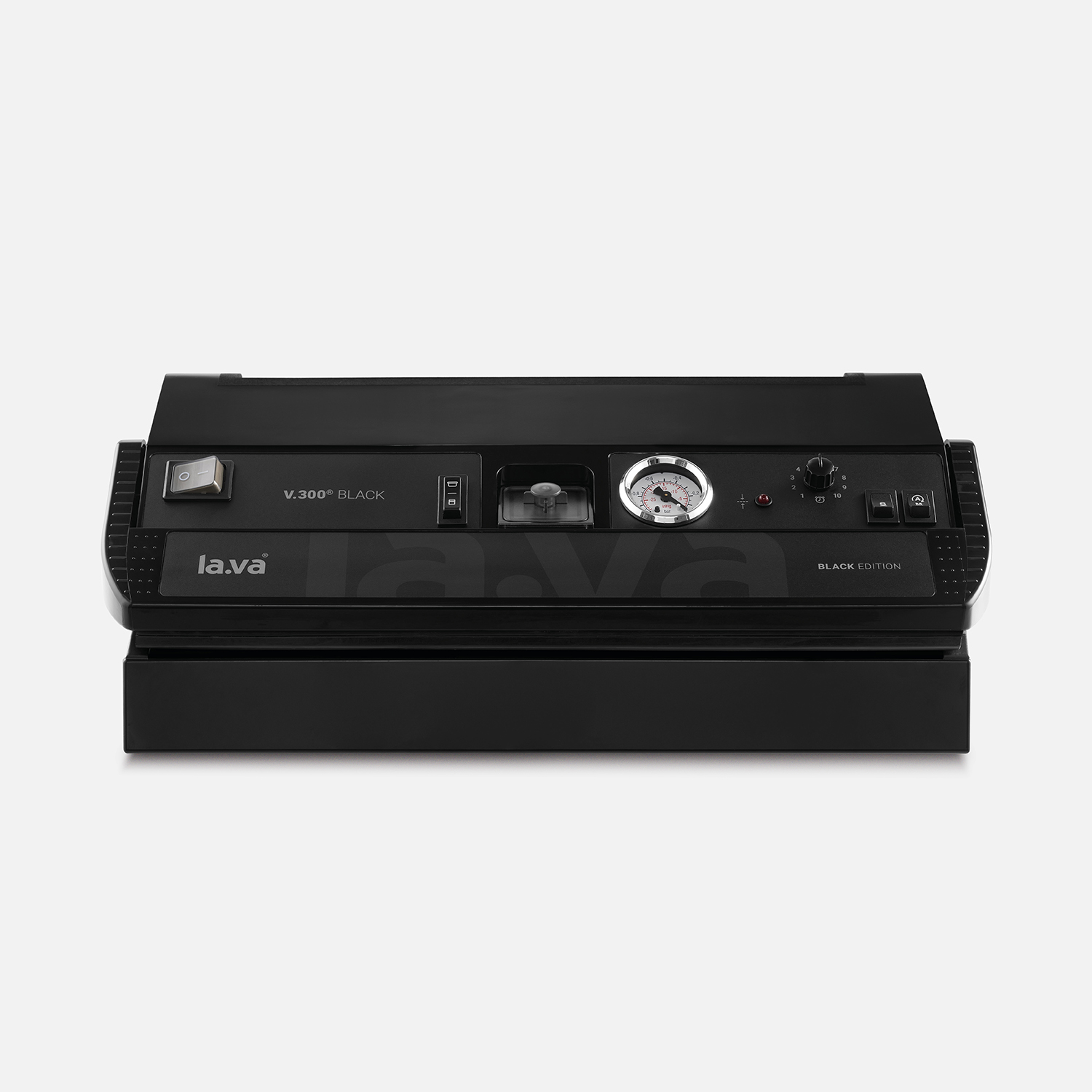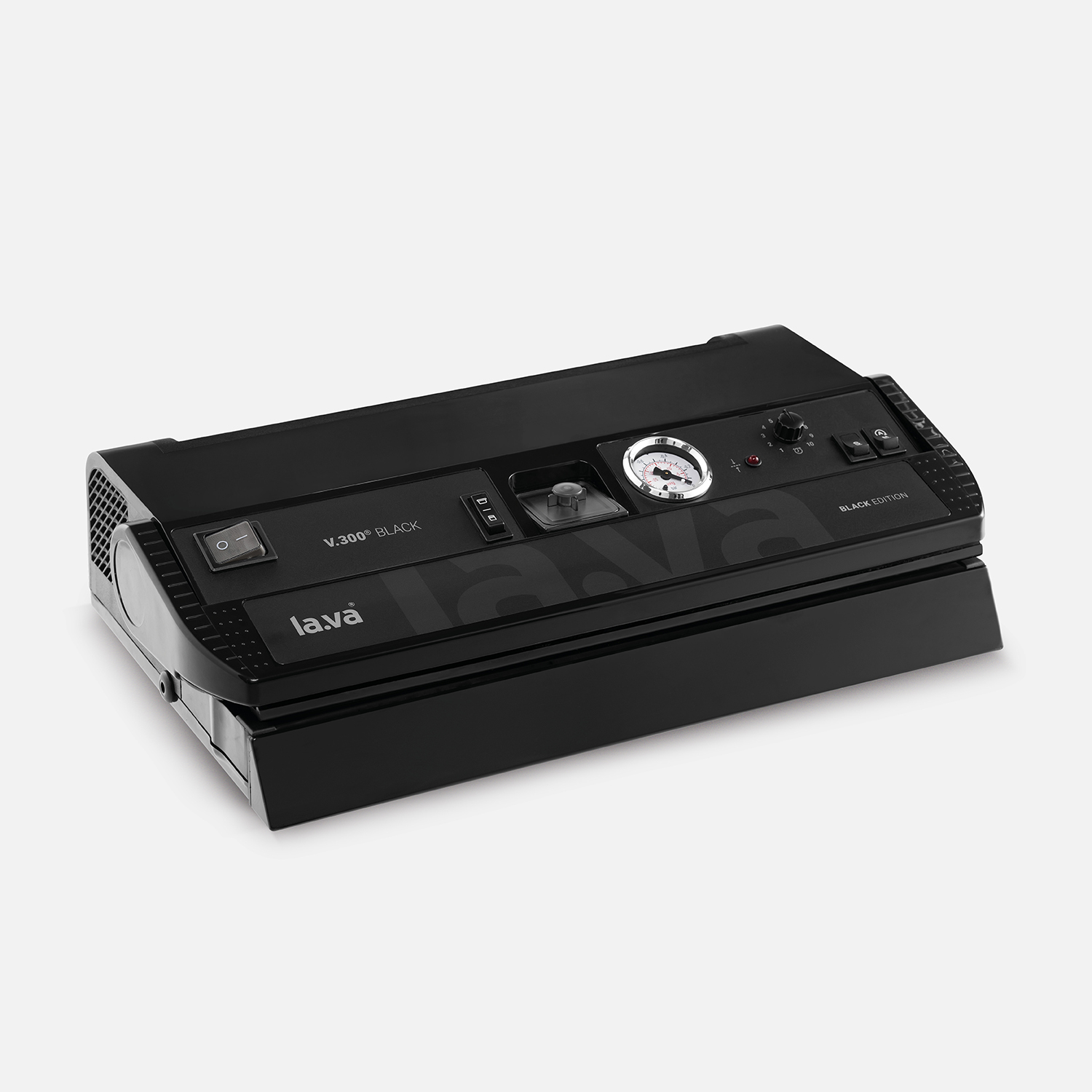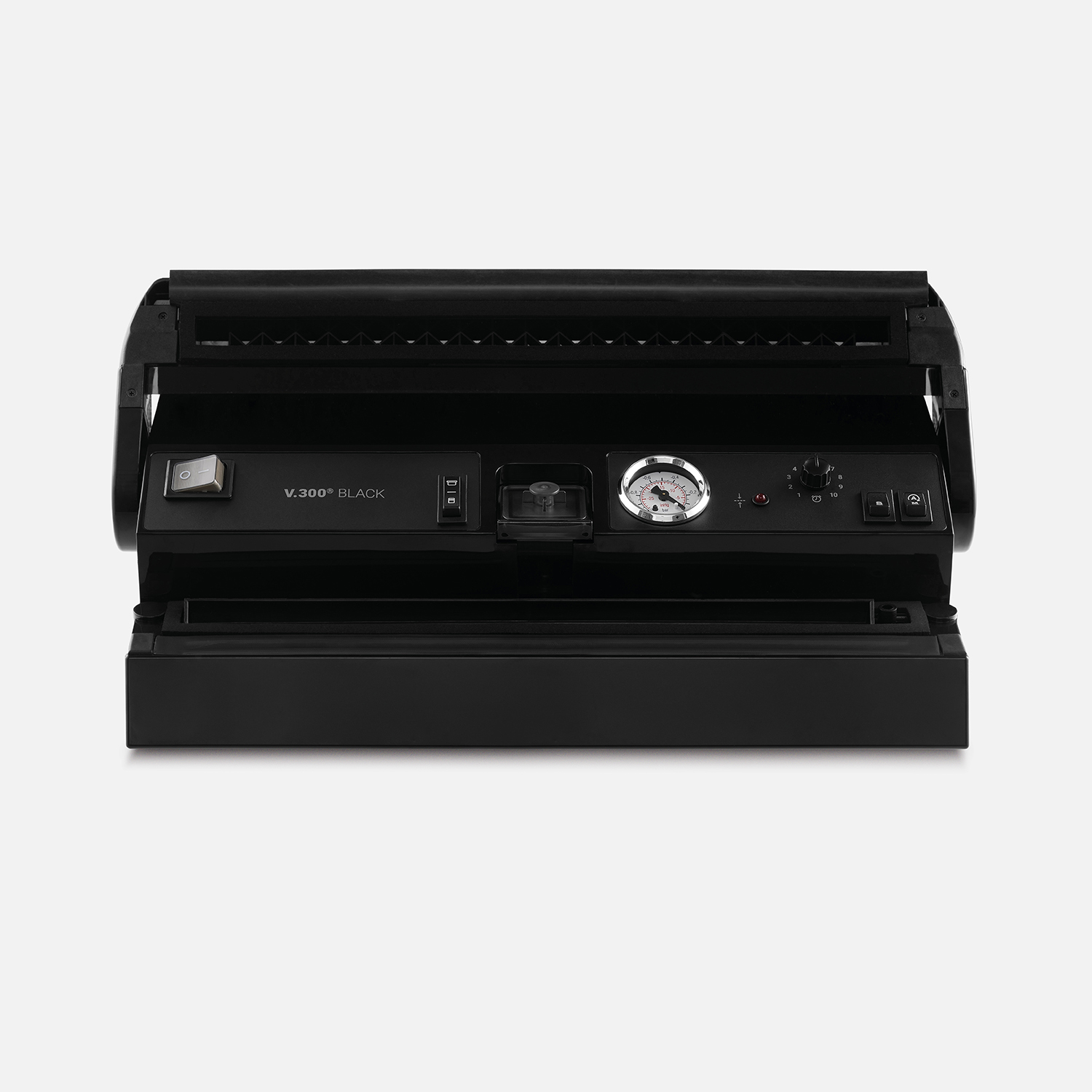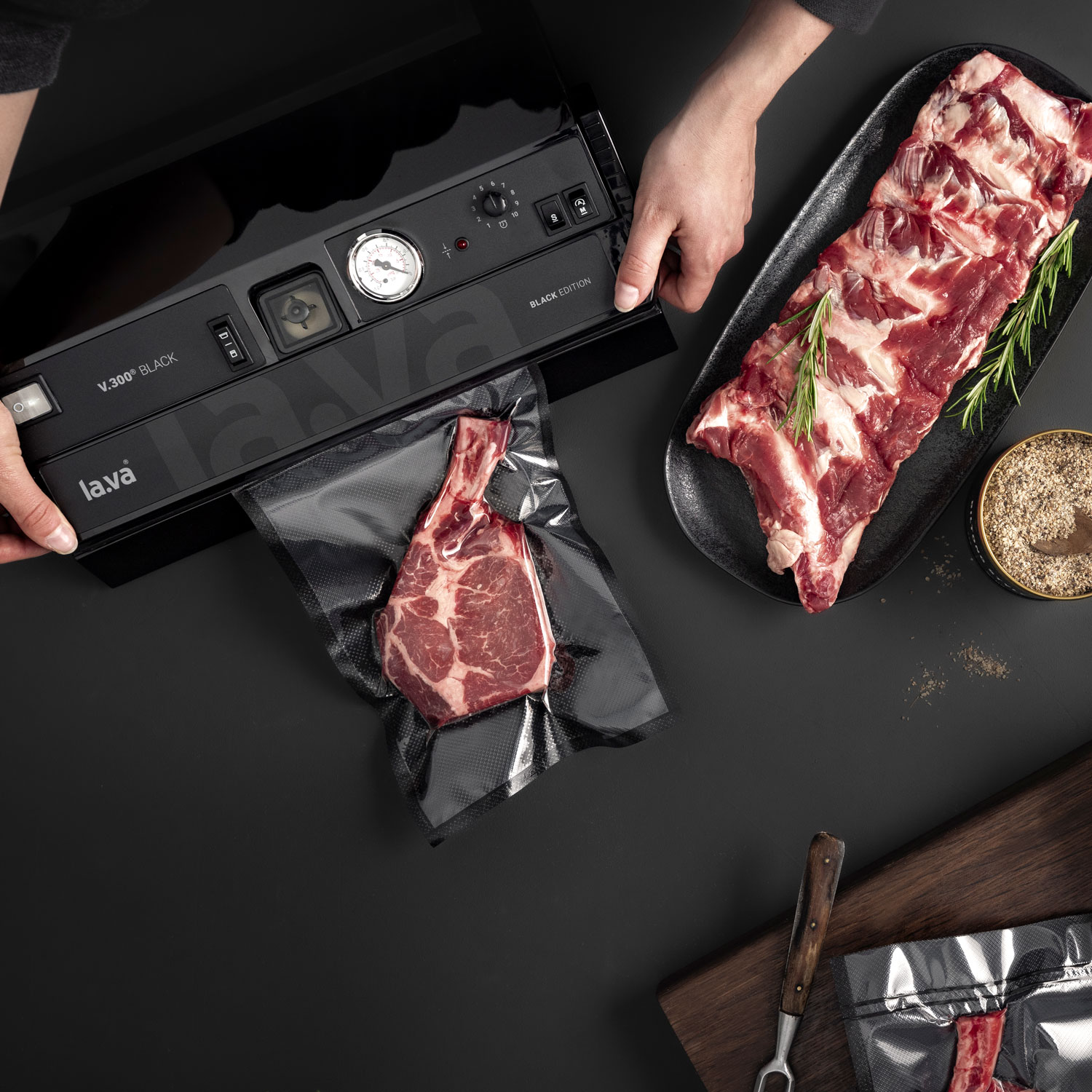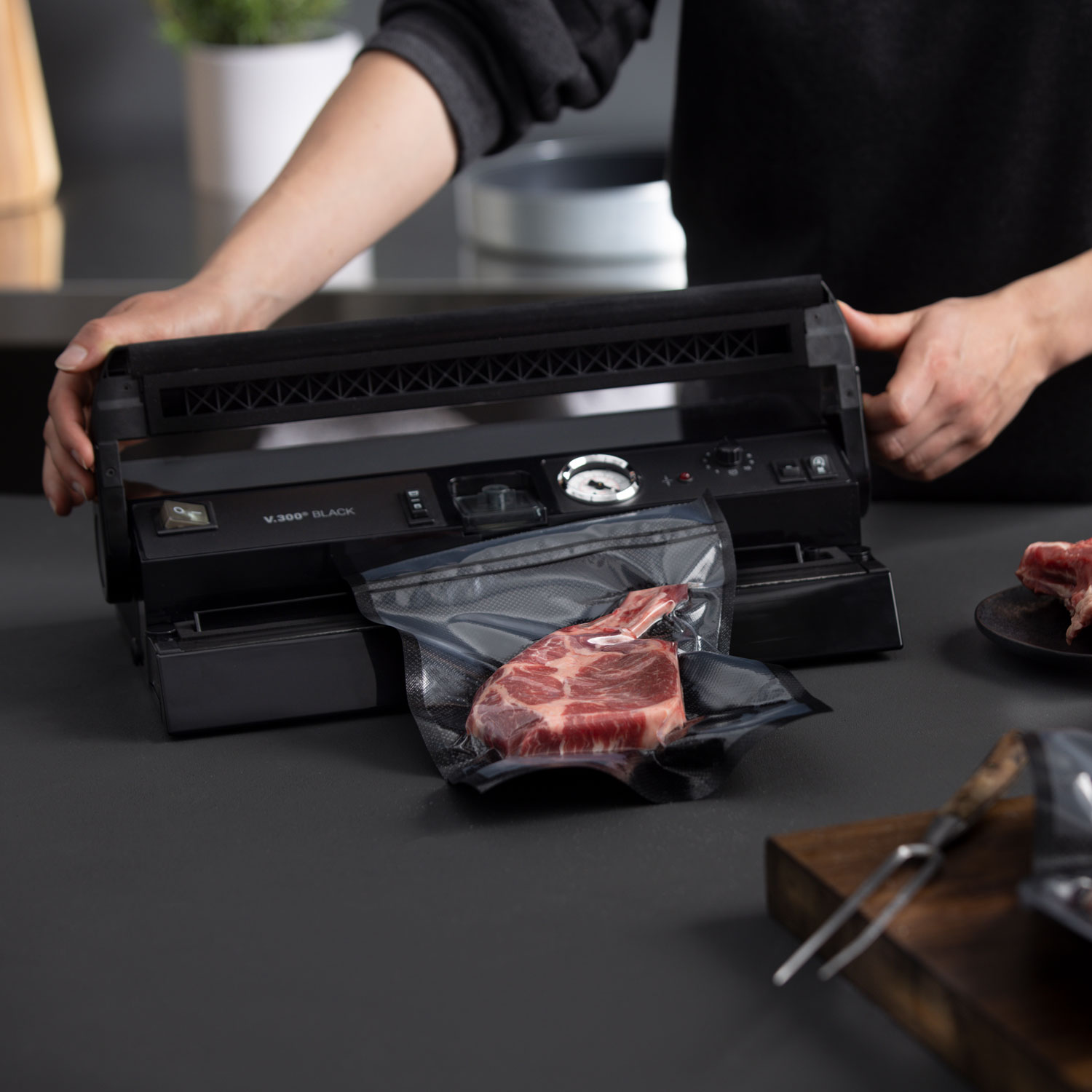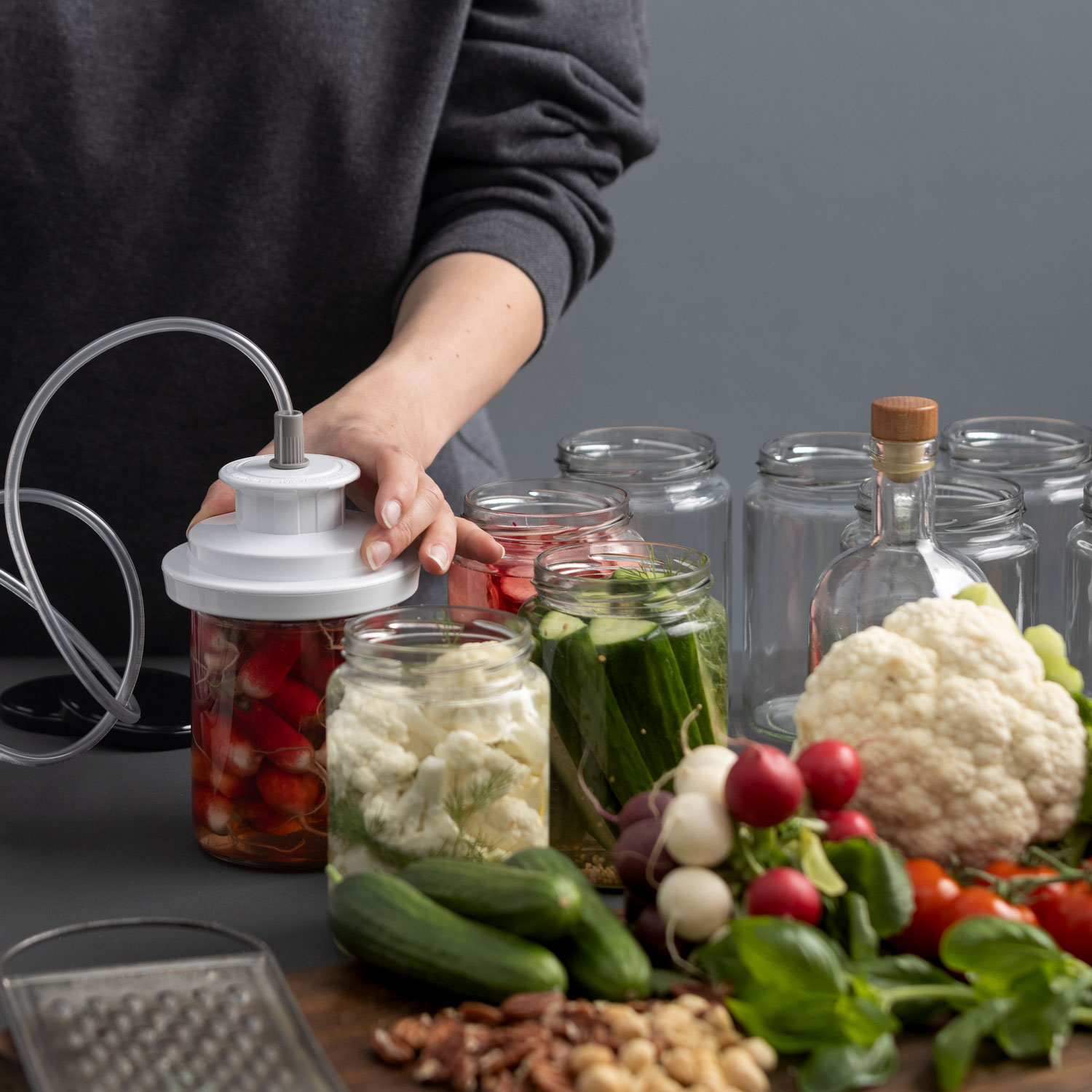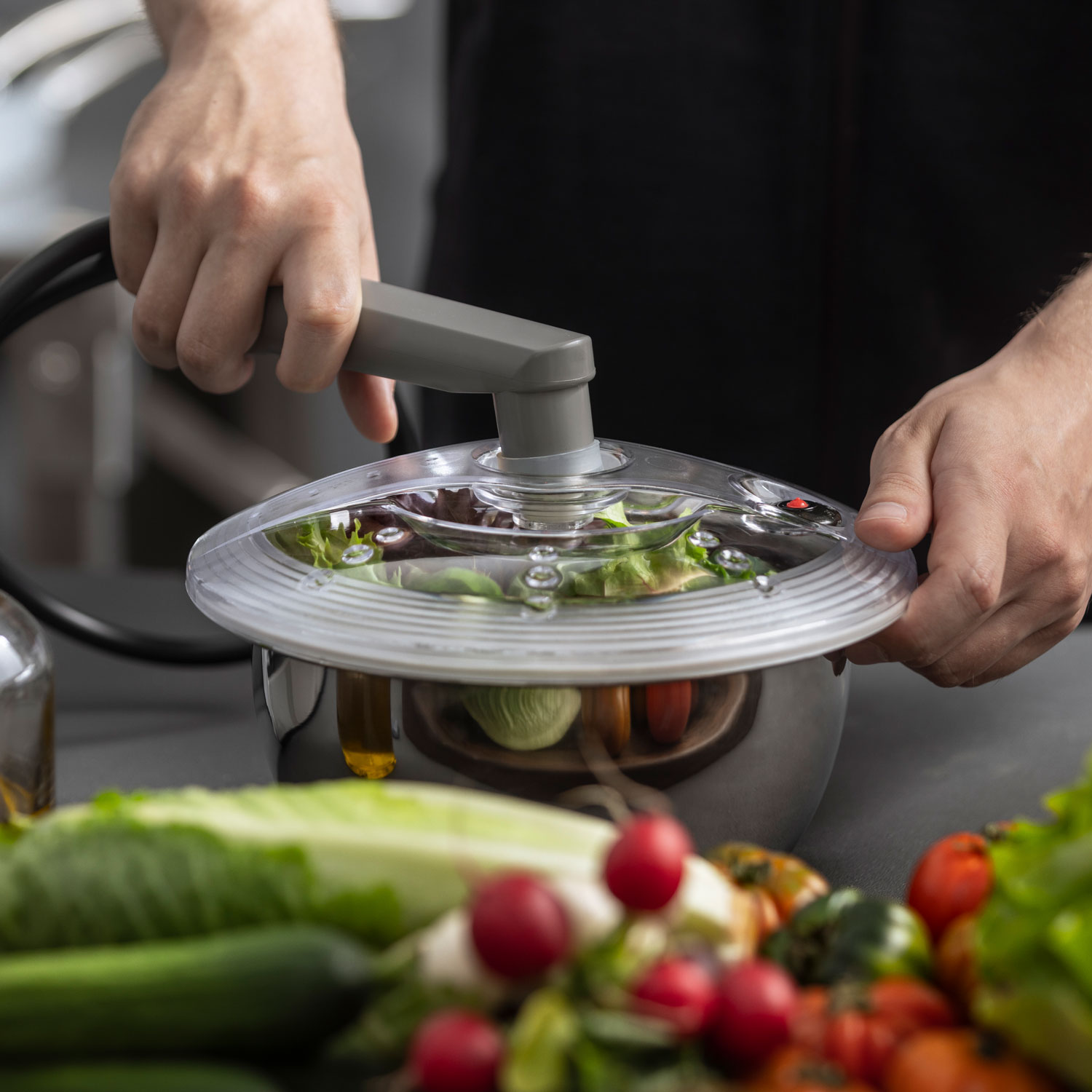 Vacuum machine V.300® Black
A powerful, fully automatic vacuum sealer with up to -0.96 bar max. vacuum. Professional manometer display, particlefilter and pressure regulator in simple, elegant black.
Details
Shipping with DHL already on 04.12.2023
with today's order. Delivery: 1-3 days
Free accessories worth up to €100*

1 x G-line vacuum container
50 x R-Vac vacuum bags 16 x 25 cm
50 x R-Vac vacuum bags 20 x 30 cm
50 x R-Vac vacuum bags 25 x 40 cm
2 x E-Vac vacuum rolls 30 cm x 6 m
100 x Labels for vacuum bags
1 x Permanent marker
30 days of withdrawal
Lifetime pump warranty¹
A purchase for life
Vacuum machine V.300® Black
Powerful, fully automatic vacuum sealer
with professional manometer display, particle filter and pressure regulator
This makes your work not only easier, but also faster. Thanks to the extra-strong pump, the V.300® Black provides up to -0.96 bar vacuum and is therefore, together with the V.300® White, the strongest Lava vacuum sealer in this size class.
Even very large vacuum bags are perfectly vacuum sealed in no time at all. The strong vacuum also gives your food an even longer shelf life. While the device fully automatically vacuums and closes the bag with a double weld seam, you can already fill the next film bag. You can always keep an eye on the vacuum level on the pressure gauge display. The original L+ pressure regulator is already included so that you can also easily vacuum seal pressure-sensitive or moist products. In addition, the V.300 Black is equipped with a 2-stage filter system, which protects the device from particles being sucked in.
Vacuum machine V.300® Black
Vacuum seal and weld food, industrial parts and other items professionally.
Fully automatic or manual: Use the toggle switch to choose which mode you want to work in.
Stay flexible: You can not only vacuum seal bags, but also Lava vacuum containers (perfect for liquids) or use the Lava universal lid to even vacuum seal pots, bowls or cans. The required suction device is already included. With the help of the Lava vacuum bell you can also vacuum seal preserving jars and twist-off jars in no time at all.
Welding time continuously adjustable: Perfect for sealing films of different thicknesses, whether it's a thin bag of crisps or a sturdy 200 micron industrial-strength bag.
Exact pressure gauge display of the vacuum level - for perfect vacuum control and as a convenient pressure regulator for sensitive products.
Seal and vacuum film bags or film rolls. Can also be used purely as a sealer with just a "welding function".
Exact pressure regulation: The Lava L+ pressure regulator is standard on the V.300® Black for vacuum sealing pressure-sensitive or moist food (e.g. berries, bread).
Vacuum sealing moist and sensitive products: Thanks to the standard pressure regulator, you can also vacuum seal pressure-sensitive or moist products with the V.300® Black. The removable liquid separator protects the pump from small amounts of liquid being sucked in. In addition, the V.300® Black has a removable tray in the intake area, which protects the device twice over from liquids being sucked in.
A 2-stage filter system in the liquid separator, reliably protects the device from sucking in fine particles (e.g. spices, flour, powder, etc.).
Vacuum sealing of smooth, standard sealed edge vacuum films possible from a thickness of 120 µ. Note: It is a bit more complex and takes longer than with structured films.
Up to 1000 successive weld seams: all Lava vacuum sealers are designed for continuous use. The oversized welding transformers optimally protect the device against overheating.
LTP - Lava Turbo Pump with lifetime guarantee*. Even larger pump motor and stainless steel cylinder cover for consistently high performance, even after many years. The benefits: Time savings, faster work & longer durability through up to -0.96 bar, Ideal for larger vacuum bags or when carrying out many successive processes. As standard: 2-ball bearing piston pump (approx. 35 l/min. pump performance).
LCS - Lava Close System: Simplified workflow due to faster vacuum generation. No annoying closing of locking clips or hooks, as with other devices. This eliminates the long pressing of the device flap that is often necessary. The device works independently and the negative pressure is generated faster, so the next bag can be filled at the same time.
Maintenance-free: With all Lava vacuum sealers, wear parts such as seals or weld strips can be changed quickly and easily. It is therefore not necessary to send the vacuum sealer away.
Vacuum machine V.300® Black
The Lava V.300 Black is supplied in a set consisting of:
Vacuum sealer V.300 Black
Free starter set worth over 70 Euro
Also includes: Suction device for containers
Also includes:

Pressure regulator L+

for a gentle vacuum
Starter set with different vacuum bag sizes
Detailed operating instructions with guarantee certificate


Guarantee period: 2 years - extendable to 5 years (can be added in the shopping cart)
Vacuum machine V.300® Black
Article number:

VL0300B

Colour:

Black

Dimensions:

410 x 230 x 98 mm

Fluid extraction facility:

In series

Housing:

Strong ABS plastic

LCS® (Lava Close System):

Enables fast vacuuming as the device flap does not need to be held continuously

LTP® (Lava Turbo Pumpsystem):

Utilization of high quality piston pumps, which are exceptionally smooth, powerful and equipped with double ball bearings

Number of pumps:

1

Packing and sealing operation:

Up to 1000 in series without overheating

Peak power:

600 watts

Power of pump (approx.):

35 ltr./min

Pressure control L+:

In series

Pressure gauge:

Pressure gauge display

Recommended for:

Kitchen Pro

, Hunter

, Fisher

, Industry

Vacuuming and sealing process:

Automatic & manual

Voltage:

220 - 240 volts

Weight:

4,90 kg

Weld seam:

Double

Sealing band length:

340 mm

Max. vacuum:

-0,96 bar (with stainless steel cylinder cover)

Lava Functions:

LTP® and LCS®
Vacuum machine V.300® Black
Login as customer
Dear Lava customer, the login to the customer account is the same as before. Have fun!
Login
---
Matthias R., Nov 29, 2023, 12:20:32 PM
Ich habe vor Kauf ein sehr angenehmes Telefongespräch mit einem sehr freundlichen Mitarbeiter der Firma geführt, da ich noch ein paar Fragen zu den Unterschieden zwischen verschiedenen Modellen hatte. Das Gespräch hat letztendlich dazu geführt, dass ich mich für das V.300 Black entschieden habe. Das Gerät habe ich nun ca. 16 Tagen und es war bis jetzt mindestens 1 mal täglich in Gebrauch. Mich hat das Gewicht des Gerätes positiv überrascht. Die bisherigen Vakuumiergeräte, die ich besessen habe, waren dagegen eher Leichtgewichte. Das V.300 steht durch sein Gewicht schön fest auf der Arbeitsplatte. Die Bedienung ist etwas anders, als ich es von meinen bisherigen Geräten (keine Lava) gewohnt bin. Aber den Dreh hatte ich schnell raus. Die Ergebnisse sind durchweg erstklassig. Bin ich bei anderen Geräten, auch Markengeräte, schon nach ca. 10 Vakuumier-Vorgängen an deren Grenzen gestoßen, so hat das V.300 bisher ohne zu murren auch 20 Durchgänge und mehr geschafft. Laut techn. Daten sollen sogar 1000 Durchgänge ohne Überhitzung möglich sein. Der Preis des Gerätes hatte mich anfangs natürlich zweifeln lassen, ob es überhaupt so ein Gerät sein muss. Aber jetzt nach 16 Tage kann ich nur sagen, dass das Gerät jeden Euro wert ist. Ich bin sehr zufrieden.
Melanie S., Nov 23, 2023, 4:15:37 PM
Super Qualität, bin sehr zufrieden, hatte schon ein V100 Nach 20 Jahren musste mal was Neues her, obwohl das alte Gerät noch einwandfrei funktioniert aber nur eine Schweissnaht hat.
Claudia R., Nov 2, 2023, 5:23:28 PM
Sehr einfache Bedienung, absolut spitze!
Ein Spitzengerät!
Michael P., Nov 2, 2023, 2:35:32 PM
Gamechanger for my kitchen! I recently purchased the black vacuum sealer, and I couldn't be happier with my decision. It's incredibly easy to use, and it has exceeded my expectations in every way. The vacuum sealer not only keeps my food fresh for a longer period, but it also helps me save money by reducing food waste. I love the versatility of this machine, as it can handle various types of bags and containers. Well done Lava!
Arne F., Nov 2, 2023, 12:55:08 PM
Top Ware, alles unkompliziert, schneller Versand. Das Gerät läuft 1A mit einer starken Pumpe, ich bin rundum zufrieden!
Lothar W., Oct 4, 2023, 6:54:54 AM
Oualität und Verarbeitung sind gut. Das Gerät ist vergleichsweise leise im Betrieb. Nicht vergleichbar mit Geräten mit "Plastikgehäuse", die man i.d.R. nach gut 3 Jahren entsorgen muß. Und : Made in Germany, mit Ersatzteilversorgung wenn notwendig, so etwas findet man eigentlich kaum noch.
Julia F., Jul 13, 2023, 12:56:31 PM
Habe seit einigen Jahren das V300 im Einsatz und die Leistung der Pumpe ist immer noch stark. Der Aufsatz für die Behälter ist sehr praktisch für Marmeladengläser etc.
Selina S., Jul 5, 2023, 1:30:38 PM
Nicht nur die Leistungsstärke des V.300 Black hat mich überzeugt - es ist auch ein absoluter Hingucker in meiner Küche! klare Kaufempfehlung
Frequently asked questions
The devices of the special edition V.300 Black and V.300 White are our most powerful devices in this size class with a power consumption of 600 watts. In addition to all the advantages of the V.300 Premium X, our Black and White line also impresses with:
0.96 bar maximum vacuum: An even stronger vacuum for even faster work, and therefore even greater durability of your vacuumed products
Stainless steel cylinder cover in the pump piston: For consistently high pump performance
2-stage filter system in the liquid separator: Protects the device against damage from fine particles (e.g. spices) or liquids.
Tip: You can use our device comparison to compare all our vacuum sealers.


Of course, you can also use your Lava vacuum sealer to vacuum seal liquids. Moist products such as meat or fish can be easily vacuum sealed in the vacuum bag. Make sure that:
The bag is only 2/3 full and the food is as cold as possible. Pre-freeze food if needed.
When filling the vacuum bag, make sure that the bag opening, which will be sealed later, remains clean and dry. To do this, fold the top of the bag over when filling.
So that the liquid is not sucked into the device during vacuum sealing, we recommend vacuuming with gentle negative pressure. All devices from the V.300 Premium X upwards are therefore already equipped with the L+ pressure regulator. All smaller devices can easily be retrofitted with the L+ pressure regulator.
Use our liquid stop to protect your device against small amounts of liquid being sucked in.
You can also let the bag hang over the edge of the table when vacuum sealing to prevent the liquid from being sucked in.
For large amounts of liquid, we recommend our Lava vacuum container. These can easily be vacuum sealed with any of our vacuum sealers or with a manual pump.


The easiest way to work is with structured vacuum bags or vacuum rolls. However, you can also vacuum seal smooth vacuum bags with your Lava vacuum sealer. This requires a simple folding technique, which we will explain to you here.


¹ For longlasting performance, Lava offers a 25-year warranty on the vacuum pump of a vacuum sealer.